Offshore Health, Safety & Environment
About this
Course
---
Today's oil and gas operations face a wide range of complex and constantly changing risks that pose potential threats to oil workers and the environment. Due to its increasing importance to the bottom-line, it is not uncommon for Health, Safety and Environment (HSE) to feature as an important item on the agenda of petroleum companies executive management board meetings.
As a result, the supervision of workplace Health, safety and Environment issues is becoming a critical skill-set that companies seek in all employees across the organizational hierarchy. Workers engaged in areas regarded as high-safety-risk areas within the company's operations are increasingly required to possess an ability to apply basic HSE concepts and practices within the company and demonstrate a minimum level of expertise in environmental/sustainability issues.
In this course, you will learn of the safety and environmental issues in the petroleum industry. It will provide detailed understanding of the methods and techniques to resolve these key issues for making petroleum production and processing, cleaner and safer. This course would educate the participants to identify and assess hazards in any stage of operation, to quantify and manage them as well. This course will also highlight lessons learnt from the past accidents.
In this course, you will study the following topics:
Introduction to Offshore support vessels
Familiarization after arrival on an offshore platform
International and national laws and regulations
Safety Awareness
Offshore hazards
Personal and occupational risk
Personal protective equipment PPE
Permit to work system
Personal responsibility for safety
Abandonment and survival techniques
Life boats
Life rafts
Personal survival equipment
Location equipment
Radio communication
Pyro technical distress signals
Visual and audible distress signals
Search and Rescue (SAR)
SAR organisation
Helicopter Safety and HUET
Helicopter Safety
Helicopter emergency procedures
Personal safety equipment
Helicopter emergency landings
First aid and hypothermia
First aid in case of accidents
Hypothermia
Firefighting and breathing protection
Firefighting on offshore platforms
Fire prevention
Breathing protection
| | | |
| --- | --- | --- |
| | Course Code | UNN/OC/0038 |
| | Course Start Date | Started |
| | Course Duration | 2 Months |
| | Dedication | 4 Hours per week |
| | Number of Modules | 14 |
| | Level | Level 3 |
| | School offering course | UNN Online School of Oil and Gas |
| | Language | English |
| | Video/Audio Media | None |
| ₦ | Course Fee | 300000.00 |
---
---
Diploma
Certificate
---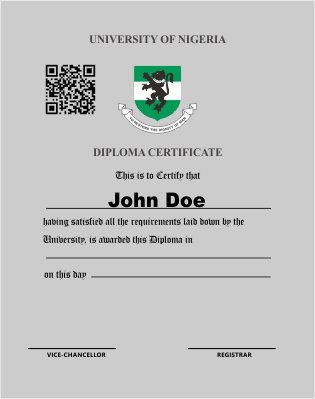 The highly prestigious University of Nigeria Diploma certificate is awarded to you on successful completion of a course or program. The certificate gives you an edge by improving your market value and employability in top level organizations.
Course Prerequisites
/ Requirements
---
The Offshore HSE Management Course is suitable for those currently working in or seeking for an opportunity to work at an entry or middle level role in the petroleum industry. A first degree qualification is a must to qualify you for enrolment in this course. Diploma students can also register in this course.