Offshore Drilling and Production
About this
Course
---
Oil and natural gas are brought to the surface from underground reservoirs through wells that have been drilled and completed to produce these fluids safely and economically. Fundamental technology of drilling, completion and production of oil and gas is common to onshore and offshore areas.
This course provides a working knowledge of offshore drilling rigs, equipment and procedures. This course teaches an in-depth appreciation of offshore drilling, equipment, drilling practices and the specific operational requirements for working in an offshore environment.
In this course, you will study the following:
Offshore Exploration
Rotary Drilling
Offshore Drilling Structures and Equipments
You will also learn what directional drilling is and why directional wells are drilled.
You will as well learn about different kinds of directional wells and what typical directional well
profiles look like.
This module also introduces well plans and planning and the components of a
well that are described on the well plan.
At the end of this course, you will be able to:
Define directional drilling
Recall the historical development of directional drilling.
Recognize the reasons for drilling the following types of wells: exploration, appraisal,
development/production.
Identify descriptions and pictures of directional drilling applications.
Identify several features of a directional well profile.
Identify the general types of directional well profiles.
Recall an explanation of a well plan by choosing an answer from a list of selections.
Identify the basic components of a well plan. Other topics include:
Offshore Oil/Gas Production Systems
Understand Subsea Structures
Understand Subsea Technology
Oil Recovery Systems
Primary, Secondary, Enhanced etc.
| | | |
| --- | --- | --- |
| | Course Code | UNN/OC/0039 |
| | Course Start Date | Started |
| | Course Duration | 3 Months |
| | Dedication | 4 Hours per week |
| | Number of Modules | 6 |
| | Level | Level 3 |
| | School offering course | UNN Online School of Oil and Gas |
| | Language | English |
| | Video/Audio Media | None |
| ₦ | Course Fee | 300000.00 |
---
---
Diploma
Certificate
---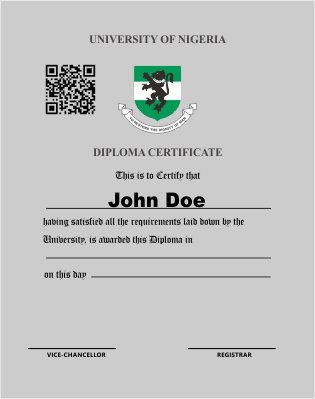 The highly prestigious University of Nigeria Diploma certificate is awarded to you on successful completion of a course or program. The certificate gives you an edge by improving your market value and employability in top level organizations.
Course Prerequisites
/ Requirements
---
The Offshore Drilling and Production course is suitable for drilling personnel who have little or no offshore experience, shore-based operational staff required to be knowledgeable with offshore drilling equipment and practices. A first degree qualification is a must to qualify you for enrolment in this course. Diploma students can also register in this course.