About this
Course
---
STATA is a general-purpose statistical software package created in 1985 by StataCorp. Most of its users work in research, especially in the fields of economics, sociology, political science, biomedicine and epidemiology. Stata's capabilities include data management, statistical analysis, graphics, simulations, regression, and custom programming. It also has a system to disseminate user-written programs that lets it grow continuously.
In this course you will be learning about the STATA software and how you can employ this software in solving data analysis and statistical problems. This course has been designed to promote ease of understanding and practice. Throughout the course, you will follow instructions and guides on using the STATA software through video presented by a STATA software professional instructor. Further details are also available through the course text.
This course is purely hands on and you are required to have a copy of the STATA software installed in your machine to enable you follow what the course instructor will be teaching you through the video.
At the end of this course, you will know how to:
Input and export data from excel into STATA.
Explain the various output windows on the program and where various results are found.
Code variables in STATA.
To generate a numerical variable in STATA that is a function of existing variables.
To learn the encode command.
To create a histogram in STATA in order to view the distribution of the data.
To calculate the mean for multiple variables in a model.
To create a two way scatter plot in STATA.
To understand research design of significance testing.
To understand how to calculate t-test statistic, and use its corresponding p-value to determine whether to reject or fail to reject the null hypothesis.
To calculate confidence intervals of means within STATA.
To conduct univariate and multivariate regression in STATA and interpreting the various variables in the model.
To conduct a white test for heteroskedasticity in STATA.
To correct the issue of heteroskedasticity in your regression using robust standard errors.
| | | |
| --- | --- | --- |
| | Course Code | UNN/OC/0015 |
| | Course Start Date | Started |
| | Course Duration | 2 Months |
| | Dedication | 2 hours per day |
| | Number of Modules | 4 |
| | Level | Basic |
| | School offering course | UNN Enterprise Skill Acquisition School |
| | Language | English |
| | Video/Audio Media | None |
| ₦ | Course Fee | 40000.00 |
---
---
Certificate
of Proficiency
---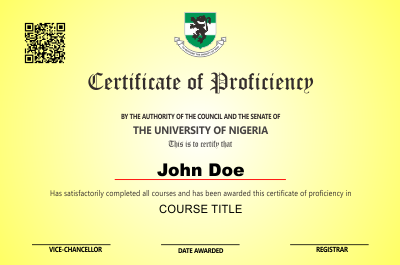 A Certificate of Proficiency is awarded to you at successful completion of courses designed to prepare you for a new career or enhance your skill set. This empowers you to be more productive and marketable in today's global market.
Course Prerequisites
/ Requirements
---
This course has no strict requirements. Anyone is qualified to take this course so long as the student is familiar with taking online courses on the platform. Once registered in this course, you will be required to complete activities such as assignments or quiz in order to proceed. The course has been structured in a way to promote ease of understanding. You must be dedicated in this course; you should spend at least an average of 2 hour per day on this course. A desktop or laptop computer with a copy of STATA installed is required. This will enable you practice what you are being thought as the lesson goes on.