About this
Course
---
EViews is a modern econometric, statistics, and forecasting package that offers powerful analytical tools within a flexible, easy-to-use interface.
Using EViews, you can quickly and efficiently manage your data, perform econometric and statistical analysis, generate forecasts or model simulations, and produce high quality graphs and tables for publication or inclusion in other applications.
EViews is designed with your workflow in mind. The innovative EViews user-interface simplies every step of the process, from data input and import, to data visualization, statistical analysis, estimation, forecasting and model solving, publication quality presentation output.
At the end of this course, you will learn how to:
Input and export data from excel into EViews.
Explain the various output windows on the program and where various results are found.
Upload data into Eviews.
Define Series objects into Eviews.
Identify different workfile series objects.
Upload Panel data into Eviews.
Transpose data from foreign workfiles.
Transform data in Eviews.
Create histogram and graphs.
Create a histogram in EViews in order to view the distribution of the data.
Calculate the mean for multiple variables in a model.
Analyze and interpret the results of your model estimation.
Know how to save their results in Eviews.
Heteroskedasticity, what it means, how to detect it and how to address it.
| | | |
| --- | --- | --- |
| | Course Code | UNN/OC/0017 |
| | Course Start Date | Started |
| | Course Duration | 2 Months |
| | Dedication | 2 hours per day |
| | Number of Modules | 3 |
| | Level | Basic |
| | School offering course | UNN Enterprise Skill Acquisition School |
| | Language | English |
| | Video/Audio Media | Audio & Video |
| ₦ | Course Fee | 30000.00 |
---
---
Certificate
of Proficiency
---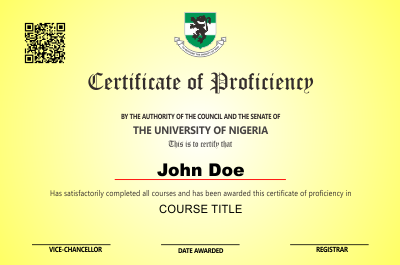 A Certificate of Proficiency is awarded to you at successful completion of courses designed to prepare you for a new career or enhance your skill set. This empowers you to be more productive and marketable in today's global market.
Course Prerequisites
/ Requirements
---
This course has no strict requirements. Anyone is qualified to take this course so long as the student is familiar with taking online courses on the platform. Once registered in this course, you will be required to complete activities such as assignments or quiz in order to proceed. The course has been structured in a way to promote ease of understanding. You must be dedicated in this course; you should spend at least an average of 2 hour per day on this course. A desktop or laptop computer with a copy of EViews 9.0 installed is required. This will enable you practice what you are being thought as the lesson goes on.