About this
Course
---
Ordinarily, when public policy is mentioned the impression generally portrayed is that it is meant to solve the problems of the people out there. In other words, the general understanding of public policy and the assumption underlying that understanding is that it is directed at finding solution to the problems and issues of the citizenry. Ideally, this presupposition is not misplaced. That is to say, this assumption is correct, for as even the name portrays, the public interest is supposed to be protected by public policy. This should also be the ethnics that guide public policies. This is because public interest should over-ride any other interest in the society. Ideally, therefore, public policy is the instrument through which public good and interests are preserved, protected and advanced. However, there are some fundamental issues and questions that need to be raised and addressed. For instance, has this assumption concerning public policy been matched in practice? Why is it that certain problems in the society have persisted for years, if not decades, in spite of several policies propagated by governments supposedly to address these problems? Indeed, some problems have even worsened over time in many countries. In Nigeria, for example, such problems as unemployment, poverty and insecurity, among so many others, would appear to be worsening over the years instead of abetting.
What you'll Learn:
Stages/Phases of Public Policy-Making Process
The Political Economy of Public Policy
The Political Economy of Paublic Policy Process (PPP) in Nigeria
Public Policy Process in Nigeria
| | | |
| --- | --- | --- |
| | Course Code | UNN/OC/0025 |
| | Course Start Date | Started |
| | Course Duration | 2 Months |
| | Dedication | 2 - 4 Hours per Week |
| | Number of Modules | 5 |
| | Level | Level 3 |
| | School offering course | UNN Online School of Government |
| | Language | English |
| | Video/Audio Media | None |
| ₦ | Course Fee | 25000.00 |
---
---
Certificate
of Proficiency
---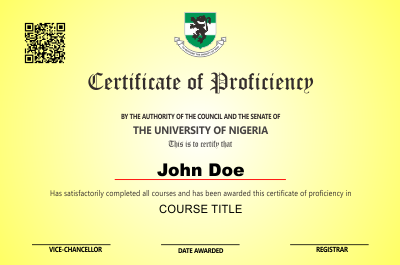 A Certificate of Proficiency is awarded to you at successful completion of courses designed to prepare you for a new career or enhance your skill set. This empowers you to be more productive and marketable in today's global market.
Course Prerequisites
/ Requirements
---
To complete this course you are required to read the study units and recommended textbooks and explore more current materials on the Internet. In this course, each unit consists of exercises or activities to test your understanding from time to time. At a point in your course, you are required to submit assignments for assessment purposes. Below you will find listed all the components of the course, what you have to do and how you should allocate time to each unit in order to complete the course successfully on time.