Development Administration
About this
Course
---
Development is variously defined. This means that different views are given about what we understand development to be. It also has several aspects which include economic, social, political and administrative aspects. Hence development is seen as multi-dimensional. But it is commonly known that the economic aspect is emphasized more than any other aspects.
Development means a process of growth, progress and improvement within any society. It can also be defined as the gradual growth of something which enables it to become advanced and stronger. Development means increase in gross national income (GNP). Development is also defined as the capacity of political growth; as a social improvement and as modernisation. It is also believed that development is a process of change plus growth which is expected to result in transformation of socio-economic aspects of peoples life.
In the final analysis, development means a process of increase, growth, progress, improvement, advancement and change in all aspects of human endeavour towards a positive life.
What you'll learn:
Concept of Development Administration
Nature of Development Administration
Challenges to Development Administration in Nigeria
International Organization and Development Administration
Strategies to Development Administration
| | | |
| --- | --- | --- |
| | Course Code | UNN/OC/0026 |
| | Course Start Date | Started |
| | Course Duration | 3 Months |
| | Dedication | 5 - 10 Hours per Week |
| | Number of Modules | 5 |
| | Level | Level 3 |
| | School offering course | UNN Online School of Government |
| | Language | English |
| | Video/Audio Media | None |
| ₦ | Course Fee | 25000.00 |
---
---
Certificate
of Proficiency
---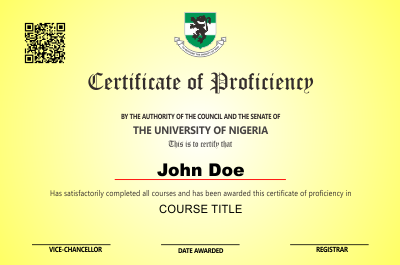 A Certificate of Proficiency is awarded to you at successful completion of courses designed to prepare you for a new career or enhance your skill set. This empowers you to be more productive and marketable in today's global market.
Course Prerequisites
/ Requirements
---
To complete this course you are required to read the study units and recommended textbooks and explore more current materials on the Internet. In this course, each unit consists of exercises or activities to test your understanding from time to time. At a point in your course, you are required to submit assignments for assessment purposes. Below you will find listed all the components of the course, what you have to do and how you should allocate time to each unit in order to complete the course successfully on time.