About this
Course
---
Our Cryptocurrency Education course is an online audio and video learning program 3 courses and 45 video modules covering both background and application of the Blockchain industry.


This course is designed to be the only Cryptocurrency hub you will need to learn all the basics of what Cryptocurrency is all about. Blockchain technology will disrupt every single industry on the planet. Cryptocurrency represents the greatest economic shift in wealth in the history of the world. Our goal is to introduce you to this industry so that you can be proficient with this new emerging industry.


Our mission is to teach the basics and fundamentals of the history of Blockchain, it's applicable uses today, and how this will grow and prosper in the future. Our final course will be focusing on how to trade within the Cryptocurrency space and learn a skill that benefit you for the rest of your career.


With each industry adapting and adding Blockchain technology it is important that you know the basics and have a clear understanding of the language and uses of this technology for the future. The applicable uses are unlimited from Medical, Agricultural, Political and even Distribution of resources around the world.


What You'll Learn:


3 distinct courses that have 15 independent lessons each.
Bitcoin 101
Crypto Advanced
How to Trade Bitcoin and Cryptocurrencies
| | | |
| --- | --- | --- |
| | Course Code | UNN/OC/0077 |
| | Course Start Date | Started |
| | Course Duration | 1 Month |
| | Dedication | 2 - 4 Hours per Week |
| | Number of Modules | 3 |
| | Level | Basic |
| | School offering course | UNN School of Computer and Data Science |
| | Language | English |
| | Video/Audio Media | Audio & Video |
| ₦ | Course Fee | 120000.00 |
---
---
Certificate
of Proficiency
---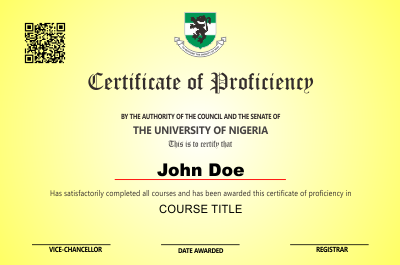 A Certificate of Proficiency is awarded to you at successful completion of courses designed to prepare you for a new career or enhance your skill set. This empowers you to be more productive and marketable in today's global market.
Course Prerequisites
/ Requirements
---
This course has no strict requirements. Anyone is qualified to take this course so long as the student is familiar with taking online courses on the platform. Once registered in this course, you will be required to complete activities such as the videos in order to proceed. The course has been structured in a way to promote ease of understanding. You must be dedicated in this course; you should spend at least an average of 2 hours per day on this course.