About this
Program
---
The UNN Diploma in Microsoft Office Programme has been specifically designed to teach learners how to use all the main Microsoft Office Applications. The Program provides students with the skills and graphic design competencies in Microsoft software required for effective work practices in this sector and will bring students up to industry level standards in the area of graphics and design. The course consists of four modules which covers the five main application programmes: Microsoft Word, Excel and Powerpoint. These are the industry standard programmes used for Desktop Publishing and Graphic Design.

The course also covers many important aspects of the DTP industry with a strong emphasis on the importance of a clear understanding of the print industry so that the learners not only know how to use the applications but also fully understand how to send the files to print. The course also examines the design, colour and layout of documents/images for print.
On completion of this programme, graduates will be able to:
Establish competence in creating artwork for digital mediums
Establish competence in the basic creative and technical aspects of image editing and manipulation
Design professional looking material using industry leading software
| | | |
| --- | --- | --- |
| | Program Code | UNN/OP/0001 |
| | Number of Courses | 3 |
| | Program Duration | 3 Months |
| | Dedication | 5 Hours per day |
| | School offering program | UNN Enterprise Skill Acquisition School |
| | Language | English |
| | Video/Audio Media | Audio & Video |
| ₦ | Program Price | 38500.00 |
---
---
Diploma
Certificate
---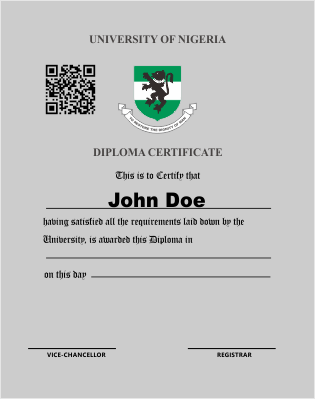 The highly prestigious University of Nigeria Diploma certificate is awarded to you on successful completion of a course or program. The certificate gives you an edge by improving your market value and employability in top level organizations.
Program
Courses
---
Microsoft word software is the defacto-standard for desktop word-processing. This course - Introduction to Microsoft Word, is designed to introduce you to various techniques, guides, principles, practices on the use of Microsoft Word.
Start Time: Started
Get the most out of one of the world's leading business presentation applications and create engaging slideshows and presentations. Introduction to Microsoft Powerpoint is designed to introduce you to various techniques, guides, principles, practic
Start Time: Started
Master one of the world's most popular spread-sheeting software applications. Introduction to Microsoft Excel is designed to introduce you to various techniques, guides, principles, practices, etc relating to Microsoft Excel.
Start Time: Started
Program Prerequisites
/ Requirements
---
This programme has no strict requirement. The student is only required to have a basic knowledge of computer operation as well as browsing the internet. Depending on the student's level of proficiency in computer usage and online browsing, the student should be able to grab all there is to know about using the UNN e-learning platform in as little as an hour.