Igbo Language (Asụsụ Ịgbo)
About this
Course
---
The Igbo language (Ásụ̀sụ̀ Ị̀gbò ) is one of the four official languages of Nigeria and is a member of the Volta-Niger branch of the Niger-Congo family of languages. It is spoken by an estimated 24 million people in Nigeria and Equatorial Guinea and is gaining more popularity across the world.
There are numerous Igbo dialects, some of which are not mutually intelligible. In this course, we have adopted the standard igbo dialect for learning known as igbo-Izugbe. Igbo-Izugbe is based on the Owerri and Umuahia dialects and has been in use since 1962.
This course has been carefully structured and designed to help you get grasps with the language; stringing words into sentences and communicating in Igbo language as quick as possible.
We have put in more emphasis on areas that will enable you learn to communicate using the Igbo language, while toning-down on the linguistics.
Course features:
Conversational Learning Structure: Designed to quickly get you speaking the Igbo language; Course lessons are bite-sized series of simple but comprehensive structured content based on practical real life conversational scenarios.
Gamified for Fun learning: Speaking the Igbo language is fun, learning it should be even more fun. Through gamification, every lesson plays out like a game; delivering a fun learning experience in every step. Score points for correct answers as you learn, to unlock even more exciting sections of the course as you progress.
Elegant Presentation: Using fun and exciting combination of colorful graphics, illustrations, animations, text and sound, you will find it easy and pleasant learning the igbo language.
Multimedia Enhanced: Boost your learning through tens of captured video sessions of actors communicating in igbo language in different scenarios. Get instant audio translations of every word, sentence or phrase, as well as pictorial / graphical illustrations throughout the course.
Mobile ready: Learn anywhere, anytime. The course has been optimized to play nice with your phone or tablet. Now you can keep learning the Igbo language even on-the-go.
What you will learn:
Part 1: Introductory Lessons
Igbo Alphabets
Counting in Igbo
Telling time in Igbo
Parts of the Body
Food Items
Part 2: Conversational Igbo
Introducing oneself
Igbo greetings
Family conversations
Market Conversations
Conversation during meals
What I do Everyday
Hotel Conversations
Conversation in the Classroom
Every lesson has a list of new vocabulary which you'll learn as well as how to string vocabularies into sentences to easily express yourself in any scenario using the Igbo language.
Lesson Demo
The lesson below is a demostration of the interactive lessons you will find in the Igbo course. Once in a lesson, you can use the control buttons to control the pace the lesson is presented. The control buttons are shown below:

The control buttons are made up of the Home, Previous, Next and Repeat button. The Previous and Next buttons allow you navigate each lesson slide. The Repeat button allows you Repeat a slide while the Home button takes you back to the start of the lesson. Click the Start button on the Demo lesson below to Begin.
Activity Demo
At the end of each lesson, you will be required to complete an activity to test what you've learnt in tha section. Activities are gamified and have been designed to be fun. Below is a demostration of one of the activities you will be seeing in the course. Click the start button to begin.
Conversational Activity Demo
Another type of activity you will be seeing in the course is the conversational activity. This activity is targetted at testing you on what you've learnt in a section while teaching you the language at the same time. It is comprised of different activity types such as Languate to English activity, English to language activity, correct image selection activity and so many others. Think of it as your conversational tutor. To give you an idea of what the conversational activity is like, Click the start button on the conversational activity demo below to begin.
Instant Audio Readout
With the instant audio readout, you get a voice readout in Igbo language of any written word or sentence in the course. We have carefully recorded audio samples of every Igbo word and sentence in the course and presented it in a way that is intuitive, fun and help you learn the language quicker. You will recognise the Intant audio readout by a blue speaker icon on any Igbo word or sentence in the course. Clicking this course reads out the Igbo word for you. Below are some examples you can try out:
| | | |
| --- | --- | --- |
| Ahụ ọ dikwa gị? | - | Are you well at all? |
| Ahụ adịghị m | - | I am not feeling well |
| Gịnị na eme gị? | - | What's wrong with you? |
| Enwere m ahụ okụ | - | I have fever |
| Ndo! | - | Sorry / It's a pity / Accept my sympathy. |
| Daalụ | - | Thank you. |
Transcribed Conversational Video Clips
We have recorded tens of high quality Igbo conversational video clips to spice up your learning. These video clips which you will find in every section of the course, depicts actors in different situations speaking / conversing using the igbo language. Every video has been transcribed in English and Igbo language in other for you to folllow the conversation. Below is a sample of the videos you will find in the Igbo course:
Plus So much more...
The Online Igbo course contains even more things to learn and do to get you speaking the Igbo language fluently. Register now and unlock the complete Igbo content.
| | | |
| --- | --- | --- |
| | Course Code | UNN/OC/0044 |
| | Course Start Date | Started |
| | Course Duration | 6 Months |
| | Dedication | 2 hours per week |
| | Number of Modules | 17 |
| | Level | Basic |
| | School offering course | |
| | Language | English & Igbo |
| | Video/Audio Media | Audio & Video |
| ₦ | Course Fee | 50000.00 |
---
---
Certificate
of Proficiency
---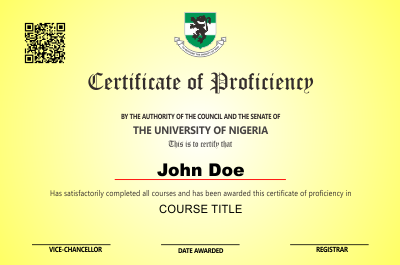 A Certificate of Proficiency is awarded to you at successful completion of courses designed to prepare you for a new career or enhance your skill set. This empowers you to be more productive and marketable in today's global market.
Course Prerequisites
/ Requirements
---
This course has no strict requirements. Anyone is qualified to take this course so long as the student is familiar with taking online courses on the platform. The course has a series of interactive lessons you must complete in order to complete the course. Some lessons will require that you watch the associated videos in order to successfully complete the lessons.