Oil and Gas Markets and Policies
About this
Course
---
The oil and gas industry has undergone significant adjustment in recent decades, owing to the interaction between oil find sources, infrastructural development, and investment plus the fact that demand is 'unpredictable'. The rise of U.S. oil and gas exports, variable transport costs, the investment necessary to establish new LNG supplies in Asia-Pacific and east Africa, the need to underpin commercial gas strategies with government-to-government deals, the speed and scope for new nuclear investment and the scale of coal-use reduction will affect the global markets.
Recently, there has been a growing negativity towards the oil and gas industry and "big energy", no thanks tomajor environmental disasters such as the Deepwater Horizon Gulf Of Mexico Oil Spill in 2013 that have cast a negative spotlight upon the industry. The trend towards Renewable and Alternative energy is also another threat to traditional oil and gas production. Coupled with the rise in pro-eco legislation and governmental pressure has meant the oil and gas industry is under more scrutiny than ever.
In this module, you will learn about local and global oil markets and sustainable policies that are required, in a world that is currently 'hostile' to fossil energy. The Petroleum, Gas and Petroleum Fiscal Policy documents of the Department of Petroleum Resources of Nigeria form part of student's course materials.
Learning Outcomes & Objectives:
On completion, students will
Learn the challenges confronting the local and global markets
Know the Nigerian local oil and gas market
Become acquainted with the global oil and gas market
Be equipped with a sustainable oil and gas policy
Learn the Strategies for managing fall in oil prices
Get acquainted with market forecasts and
Gain an insight into adequate strategic management of this sector
Use Fiscal Systems to understand the drivers
Become familiar with the details of the DPR's "Petroleum Policy", "Gas Policy" and Petroleum Fiscal Policy documents.
| | | |
| --- | --- | --- |
| | Course Code | UNN/OC/0054 |
| | Course Start Date | Started |
| | Course Duration | 3 Months |
| | Dedication | 2 hours per week |
| | Number of Modules | 10 |
| | Level | Basic |
| | School offering course | UNN Online School of Oil and Gas |
| | Language | English |
| | Video/Audio Media | None |
| ₦ | Course Fee | 70000.00 |
---
---
Certificate
of Proficiency
---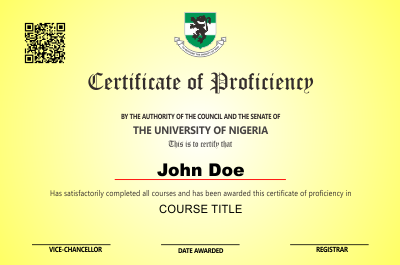 A Certificate of Proficiency is awarded to you at successful completion of courses designed to prepare you for a new career or enhance your skill set. This empowers you to be more productive and marketable in today's global market.
Course Prerequisites
/ Requirements
---
Graduates of Universities are eligible to register for Post Graduate Diploma programs, and complete/pass all the modules. NCE and HND holders with a minimum of 3 years working experience, especially in the petroleum industry will be considered. WAEC holders or equivalent, can enroll and do as many individual modules as they wish.