Energy Geopolitics and Security
About this
Course
---
To ensure the survival of any given society, it is essential to ensure enough energy flows, at reasonable prices, and turn the issue of energy into a security issue, in order to assure enough energy supply at affordable prices.As a starting point for its development of energy relationship, it is essential to analyse and dichotomise the concept of energy security, as well as energy's global geopolitical dynamics. Therefore the first objective is to clarify the concept of energy security, while the second is to outline the geopolitical dynamics that characterise and shape global energy security issues that may affect the international relationships in this field, now and in the near future.
Energy security consists mostly of the articulation of three dynamics: technology, economic and strategic, since energy influences the dynamics of a society and its
potential to move towards the future; considering the fact that a society without energy slips rapidly into inertia. The International Renewable Energy Agency's publication on "A New World: The Geopolitics of the Energy Transformation", will form part of student's course materials.
Learning Outcomes & Objectives:

The aim of this course is to produce a new generation of professionals who will be able to:
To properly explain the energy security concept.
To elucidate the geopolitical dynamics which characterize and shape global energy security issues.
To demonstrate how both can be synchronized into a national and foreign policy objective.
Use the Energy "Power" of their nations to peacefully advance Geopolitical interests.
Work to ensure the Energy security of nations, regions and the globe.
And show how technology, economics and strategy contribute to societal dynamics and future.
| | | |
| --- | --- | --- |
| | Course Code | UNN/OC/0055 |
| | Course Start Date | Started |
| | Course Duration | 3 Months |
| | Dedication | 2 hours per week |
| | Number of Modules | 10 |
| | Level | Basic |
| | School offering course | UNN Online School of Oil and Gas |
| | Language | English |
| | Video/Audio Media | None |
| ₦ | Course Fee | 200000.00 |
---
---
Certificate
of Proficiency
---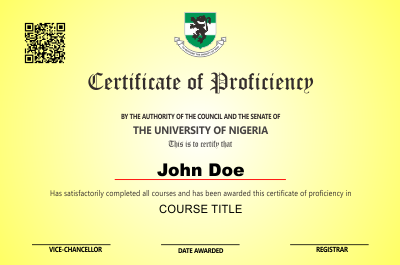 A Certificate of Proficiency is awarded to you at successful completion of courses designed to prepare you for a new career or enhance your skill set. This empowers you to be more productive and marketable in today's global market.
Course Prerequisites
/ Requirements
---
Graduates of Universities are eligible to register for Post Graduate Diploma programs, and complete/pass all the modules. NCE and HND holders with a minimum of 3 years working experience, especially in the petroleum industry will be considered. WAEC holders or equivalent, can enroll and do as many individual modules as they wish.