Oil Spills Impacts and Environmental Sensitivity
About this
Course
---
In this course, trainees are taught the general causes of oil spills ranging from equipment malfunction, sabotage, pipeline and tank failure, to corrosion. The course goes on to explain the impacts oil spills can have, from surface water pollution, soil pollution, and devastation of fish ponds and farmlands, not only polluting them, but depriving locals of their sources of livelihood, and the devaluation of properties, while diminishing aesthetic appeal.
Ecologically sensitive sites such as mangroves, coastlines, tundra vegetation, sea grass, salt marshes, kelps, tidal flats and coral reefs, many of which provide pristine sites, that habour these specialized flora and fauna, are almost irreversibly damaged to the point where human efforts at recovery, rehabilitation or remediation, are not only difficult, but may cause extra damage.
Finally the training provides deep insight into the operations of the National Oil Spill Detection and Response Agency [NOSDRA] in responding to oil spills, not only on shore, but also, the usefulness of Environmental Sensitivity Index Mapping, in combating complex coastline and offshore oil spills.
Learning Outcomes & Objectives:
To teach the impact and damages, which oil spills can cause.
To emphasize how such spills impact shore lines and the marine environment
To explain the significance of habitats, classified as sensitive sites
To discuss the importance of Environmental Sensitivity Index Mapping
And introduce NOSDRA's ESI work.
| | | |
| --- | --- | --- |
| | Course Code | UNN/OC/0072 |
| | Course Start Date | Started |
| | Course Duration | 3 Months |
| | Dedication | 2 hours per week |
| | Number of Modules | 10 |
| | Level | Basic |
| | School offering course | UNN Online School of Oil and Gas |
| | Language | English |
| | Video/Audio Media | None |
| ₦ | Course Fee | 200.00 |
---
---
Certificate
of Proficiency
---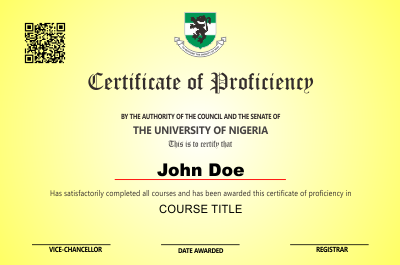 A Certificate of Proficiency is awarded to you at successful completion of courses designed to prepare you for a new career or enhance your skill set. This empowers you to be more productive and marketable in today's global market.
Course Prerequisites
/ Requirements
---
This course is targeted at new entrants in to the Oil Spill Response profession, and any other interested group. Graduates of Universities are eligible to register as well as WAEC holders or equivalent.