About this
Course
---
Our Forex Trading Course is an online trading programme with 6 modules and 18 units including video lessons exploring both theory and application.
This course is designed to be the only Forex Trading Course you'll ever need and provides you with the ideal platform to begin or elevate your career in Forex Trading. Utilising our unique approach to learning to trade, our ultimate goal is to train you to a professional standard and get you enrolled in a Funded Trader Programme. We achieve this by focusing on the three areas key to trader development, education, application,and funding.
​
Our mission is to find and cultivate the highest quality, consistently profitable traders to put forward to the Trader Funding Programme. We have taken a different approach by focusing on applying theory to the live markets "practice makes perfect." A good Forex trading course should have an ultimate goal – something you're working toward beyond just the privilege of learning to trade.
​
We go beyond just teaching you the theory because, if it's a successful Forex trading career you're looking for, it is going to require a lot more than just an understanding of market theory and ultimately, you're going to need a way to gain real-world experience and begin to build a solid verified track record.
Once you have learnt the skills to become a Forex Trader, the skills will enable you to build yourself an unlimited income. If your dream is to become your own Boss, then forex trading is a wonderful skill that can help you live up to your expectation in life, the earning opportunity is really unlimited, you can earn as much as you can dream of once you have learnt the skills within this Forex Trading Course. If you are currently jobless then this is the perfect time to learn and acquire this new skill that will change your life forever, enroll on this great skill that can have you earning an unlimited income in no time
What you'll Learn:
Introduction to The Course
Introduction to Forex Trading
Introduction to Forex Brokers
Introduction to Trading View
Support & Resistance
Trendlines
Fibbonacci Rules
Price Action
Entry & Stops
Breaks, Re-tests & Pullbacks
Full Strategy
Ranges
Channels
Journaling
News
Correlating Pairs
Trading Rules
Once you embark on this course you will receive an access link directly to a Telegram group specifically set up for all students.
Once you have completed our Forex Trading Course, you have the option then to take your evaluation and become an official trader. To become an official trader, you will have to pass a Multiple Choice Test and a two month evaluation. There is a one off cost for the test and evaluation which is £100 and entitles you to unlimited attempts. Following the test and evaluation we will give you a demo account with £250.
Your target is to be consistent in your trades and grow your account by 12% per month, you will have a maximum limit of 20% drawdown. If you show you are consistent and can stay within the stipulated parameters the following month your account size will be increased to £1000. With the £1000 account your targets will change slightly and will be to increase your account by at least 20% and your drawdown limit will be a maximum of 10%.
If you are consistent with staying in these parameters you will then have the opportunity to become and official trader for RPL Trading.​
Percentage(%) Profit Share
Once you have been accepted on the Trader Funding Programme you will then be able to gain access to a variety of different levels of funding. The company values you as a trader and have decided to offer a 80/20 % profit share. So once you get your account funded, any profit you make on the account, you will receive 80% of it.
| | | |
| --- | --- | --- |
| | Course Code | UNN/OC/0076 |
| | Course Start Date | Started |
| | Course Duration | 1 Month |
| | Dedication | 2 - 4 Hours per Week |
| | Number of Modules | 6 |
| | Level | Basic |
| | School offering course | UNN School of Computer and Data Science |
| | Language | English |
| | Video/Audio Media | Audio & Video |
| ₦ | Course Fee | 120000.00 |
---
---
Certificate
of Proficiency
---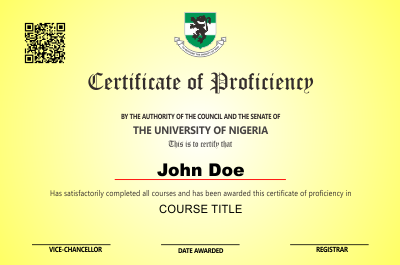 A Certificate of Proficiency is awarded to you at successful completion of courses designed to prepare you for a new career or enhance your skill set. This empowers you to be more productive and marketable in today's global market.
Course Prerequisites
/ Requirements
---
This course has no strict requirements. Anyone is qualified to take this course so long as the student is familiar with taking online courses on the platform. Once registered in this course, you will be required to complete activities such as the videos in order to proceed. The course has been structured in a way to promote ease of understanding. You must be dedicated in this course; you should spend at least an average of 2 hours per day on this course.