About this
Course
---
Artificial Intelligence is the new revolution of technology that enables machine to simulate human intelligence. It involves detailed understanding on advanced applications of AI in different industry verticals like retail, banking, finance, utilities, energy etc. Predictive Analysis is advanced data analysis that involves various learning algorithms and regressions – a close integration of Artificial Intelligence and predictive analysis helps an associate to understand the practical application of Artificial Intelligence for the benefit of IT.
We aim to empower learners to deep dive in to basics of Artificial Intelligence and understand its application. This course blends Artificial Intelligence with Data structure to provide detailed technical insight of its application.
Why AI?
The artificial intelligence market is forecasted by Research and Markets to grow to USD 191 Billion by 2025 from USD 21 Billion in 2018, at a CAGR of 36.62% during the forecast period. This could be an underestimation. PWC has forecasted that by 2030 Artificial Intelligence will boost the global economy by 14% for more than a $15 trillion impact. Trends will be:
AI Software to hold largest market share during forecast period.
Market for computer vision technology to grow at highest CAGR during forecast period.
Companies such as IBM (US), Google (US), Microsoft (US), NVIDIA (US), Intel (US), Facebook (US), and AWS (US) are complementing the growth of the market in this region.
The key players operating in this market will continue to be Intel (US), NVIDIA (US), Xilinx (US), Samsung Electronics (South Korea), Facebook (US), Micron Technology (US), IBM (US), Google (US), Microsoft (US), and AWS (US).
We will continue adding new courses in this section through continual research and market trends adaption
Intended Audience:
Who should take this Artificial Intelligence and Predicyive Analysis Training Course?
This course is crafted for all who aspire to build a career in Artificial Intelligence engineering like AI Engineer, Business Analyst,
Information architect and so on. We recommend this course to:
Developers aspiring to be a data scientist or AI engineer
Analytics managers who are leading a team of analysts
Business analysts who want to understand Predictive Analysis techniques Information architects who want to gain expertise in Artificial Intelligence usage
Analytics professionals who want to work in machine learning or artificial intelligence Graduates looking to build a career in data science and machine learning
Experienced professionals who would like to harness Artificial Intelligence in their fields to get more insights.
What you'll Learn:
AI Basics
Machine Learning Basics
Basic Python Programming
Advanced Python Programming
Machine Learning Algorithms
UnSupervised Learning Algorithms
Deep Learning
| | | |
| --- | --- | --- |
| | Course Code | UNN/OC/0078 |
| | Course Start Date | Started |
| | Course Duration | 3 Months |
| | Dedication | 2 - 4 hours per week |
| | Number of Modules | 9 |
| | Level | Level 3 |
| | School offering course | |
| | Language | English |
| | Video/Audio Media | Audio & Video |
| ₦ | Course Fee | 144000.00 |
---
---
Diploma
Certificate
---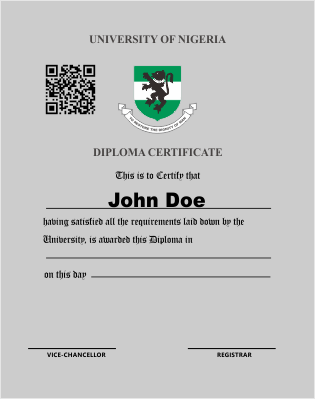 The highly prestigious University of Nigeria Diploma certificate is awarded to you on successful completion of a course or program. The certificate gives you an edge by improving your market value and employability in top level organizations.
Course Prerequisites
/ Requirements
---
Participants in this Artificial Intelligence online course should have: Basics of statistics and mathematics Basic Data science concepts