Online and Networking Business
About this
Course
---
Many entrepreneurs sell goods or services on the Internet. The Internet provides access to a large and growing market. Approximately 627 million people were shopping online worldwide in 2005, according to AC Nielsen, a global information-marketing company.
By selling on the Internet, a neighborhood shop or home-based firm can reach a national or even interna­tional group of potential customers. When entrepreneurs sell online, they are on a more level playing field with larger competitors.
There are costs to Internet selling, certainly. But the price of creating and managing a Web site has dropped, and the number of Web site design and management com­panies has grown. In fact, some entrepreneurs find it less costly to run an Internet store than to hire a large sales force and maintain one or more bricks and mortar or actual stores.
Some businesses like books, airline travel, and the stock market, for example, have been transformed by their success in online sales. Others, such as amusement parks, bowling alleys, or utility companies, may not at first seem well suited to the Internet. But a Web site also can be used for selling tickets, offering discounts, or letting cus­tomers make payments over the Internet.
At the end of this course, you will know how to:
Introduce online business.
Know the meaning of online business.
Explain how online business fairs in Nigeria.
Understand the strengths, advantages and challenges of online business.
| | | |
| --- | --- | --- |
| | Course Code | UNN/OC/0013 |
| | Course Start Date | Started |
| | Course Duration | 5 days |
| | Dedication | 2 hours per day |
| | Number of Modules | 9 |
| | Level | Basic |
| | School offering course | UNN Enterprise Skill Acquisition School |
| | Language | English |
| | Video/Audio Media | None |
| ₦ | Course Fee | 15000.00 |
---
---
Certificate
of Proficiency
---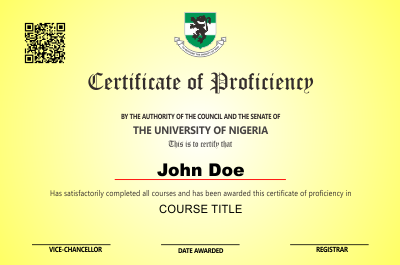 A Certificate of Proficiency is awarded to you at successful completion of courses designed to prepare you for a new career or enhance your skill set. This empowers you to be more productive and marketable in today's global market.
Course Prerequisites
/ Requirements
---
This course has no strict requirements. Anyone is qualified to take this course so long as the student is familiar with taking online courses on the platform. Once registered in this course, you will be required to complete activities such as assignments or quiz in order to proceed. The course has been structured in a way to promote ease of understanding. You must be dedicated in this course; you should spend at least an average of 1 hour per day on this course.