Renewable Energy Technology
About this
Course
---
Renewable energy is energy generated from naturally replaceable resources. They include sunlight, wind, rain, tide, waves and geothermal heat, and are renewable within a human timescale. They provide energy electricity generation,transportation, heat/cooling heating and cooling, and rural off-grid energy services.
Renewable energy technologies offer a potential for diversification in energy supply, thus strengthening energy security by broadening the energy generation portfolio used within a country.The use of renewables can reduce dependence on imported petroleum fuels, enhance the competitiveness of agricultural and other commodities, play an important and cost-effective role in rural electrification particularly in areas far from the grid, help in poverty alleviation, provide significant job creation opportunities and are less sophisticated meaning that a significant industry could be developed in Africa even where technical expertise is limited.
Worldwide investments in renewable technologies amounted to more than US$286 billion in 2015, with countries such as China and the United States heavily investing in wind, hydro, solar and biofuels. Globally, there are an estimated 7.7 million jobs associated with the renewable energy industries, with solar photovoltaics being the largest renewable employer.As of 2015 worldwide, more than half of all new electricity capacity installed was renewable
Thiscourse deals with the description, andfundamentals, of the different renewable
energy technologies, wind, solar, biogas, and hydro-energy. It gives detailed information about renewable energy technologies and applications and informs studentson the costs of different renewable energy technologies. It presents the discussion regarding common technical and non-technical barriers and the issues that limit the wide spread use anddissemination of renewable energytechnology options. The module is backed with the UNDP's instructional video on wind, solar, hydro and biogas technologies, as well as by IRENA's [International Renewable Energy Agency's] downloadable research publications, such as the "HydropowerTechnology Brief", "Photovoltaic Systems", "RenewableEnergy Benefits, Leveraging local Capacity for Onshore Wind and "Offshore innovation widens renewable energy optionsOpportunities, challenges and the vital role of international co-operation to spur the global energy transformation"
IRENA's publications are also used as course materials by the United Nations treaty based EUCLIDUniversity, in the Gambia. The course does not teach biofuels and biodiesel, as these are covered in the Bioenergy PGD.
Course Objectives
The objectives of this module are as follows:
To enable the understanding of renewable energy technology in the broadest terms.
Present the different technology options that fall within the definition of renewable energy, in a developing country context.
Provide an overview of the different renewable energy technologies and their applications.
Show the strengths and weaknesses of renewable energy technologies.
Outline the expected costs for different renewable energy technologies.
Become acquainted with IRENA's renewable energy technology strides, and learn therefrom.
And review the issues affecting effective deployment of renewable energy systems.
Learning Outcomes
The module hopes to achieve the following learning outcomes:
Be able to define the different key renewable energy technologies.
To have a broad appreciation of the potential applications for renewable energy technologies.
To understand the strengths and weaknesses of the different renewableenergy technologies and hence to have a better grasp of the benefits of renewable energy.
To understand the basic costs for the different technologies.
Gain an appreciation of the issues and barriers that renewable energyprojects face.
| | | |
| --- | --- | --- |
| | Course Code | UNN/OC/0037 |
| | Course Start Date | Started |
| | Course Duration | 1 Month |
| | Dedication | 4 Hours per week |
| | Number of Modules | 5 |
| | Level | Level 3 |
| | School offering course | UNN Online School of Oil and Gas |
| | Language | English |
| | Video/Audio Media | None |
| ₦ | Course Fee | 250000.00 |
---
---
Diploma
Certificate
---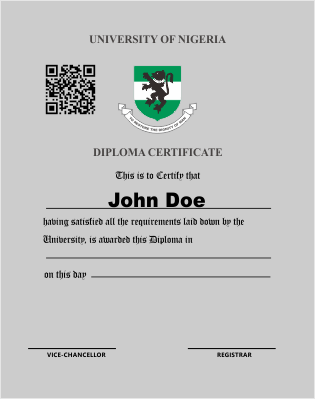 The highly prestigious University of Nigeria Diploma certificate is awarded to you on successful completion of a course or program. The certificate gives you an edge by improving your market value and employability in top level organizations.
Associated
Programs
---
Pages:
1
This program teaches the fundamentals, of the different renewable energy technologies, wind, solar, Bioenergy, hydro, and geothermal energy. It offers an in-depth overview of renewable energy technologies and applications.
Course Prerequisites
/ Requirements
---
Graduates of Universities are eligible to register for Post Graduate Diploma programs, and complete/pass all the modules. NCE and HND holders with a minimum of 3 years working experience, especially in the petroleum industry will be considered. WAEC holders or equivalent, can enroll and do as many individual modules as they wish.