Renewable Energy, Technology and Efficiency
About this
Program
---
Renewable energy offers three distinct advantages to developing countries: it enhances power supply, generates much needed income as well entrepreneurial opportunities, and helps the issues associated with the carbon emissions. It uses natural resources such as sunlight, wind, tides and geothermal heat which are naturally replenished.
This program teaches the fundamentals, of the different renewable energy technologies, wind, solar, bioenergy, hydro, and geothermal energy. It offers an indepth overview of renewable energy technologies and applications; as well as information on the costs of different renewable energy technologies. Discussion regarding common technical and non-technical barriers and issues limiting wide spread use/dissemination of renewable energy have been included.
Most forms of renewable energy are cheap to operate, but relatively expensive to install, as they have to take quite dispersed energy and concentrate it into a useful form
Students will study the following Courses:
Course 1: Renewable Energy Technology

Course

2: Renewable Energy Management & Efficiency

Course

3: Energy Efficiency, Finance & Electric Power Management.

Course

4: Global Energy Resources & Management

Course

5: Global Energy Policy and Carbon Markets
| | | |
| --- | --- | --- |
| | Program Code | UNN/OP/0012 |
| | Number of Courses | 5 |
| | Program Duration | 5 Months |
| | Dedication | 10 Hours per week |
| | School offering program | UNN Online School of Oil and Gas |
| | Language | English |
| | Video/Audio Media | Audio & Video |
| ₦ | Program Price | 1100000.00 |
---
---
Diploma
Certificate
---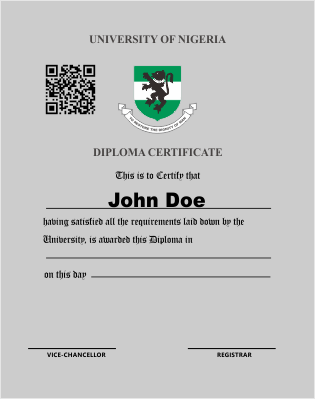 The highly prestigious University of Nigeria Diploma certificate is awarded to you on successful completion of a course or program. The certificate gives you an edge by improving your market value and employability in top level organizations.
Program Prerequisites
/ Requirements
---
Graduates of Universities are eligible to register for this program, and complete/pass all the courses. NCE and HND holders with a minimum of 3 years working experience, especially in the petroleum industry will be considered. WAEC holders or equivalent, can enroll and do individual modules.