Global Energy Policy and Carbon Markets
About this
Course
---
The global concern about carbon emissions from fossil fuels, global warming and climate change has led to the development of energy policy instruments that encourage renewable energy technologies and their integration into the global and national energy mix, while using that instrument to tax carbon emissions and use the proceeds to fund renewables.
The United Nations Framework Convention on Climate Change (UNFCCC) is the primary international treaty on global climate change. Signed in Rio de Janeiro in 1992, the Convention's objective is the "stabilization of greenhouse gas concentrations in the atmosphere at a level that would prevent dangerous anthropogenic interference with the climate system."
The Protocol also stipulates that the reduction objectives are not legally binding until those countries having ratified the treaty represent at least 55% of global emissions in 1990. This quorum was achieved in September of 2004 following the ratification of the Protocol by Russia.
In this module, you will learn about carbon markets and trading, and how they have become instruments for carbon dioxide emission management, as well as, what an energy policy constitutes. The module concludes with a review of Nigeria' Energy Policy, as issued by the Energy Commission of Nigeria, and the Department of Petroleum Resources.
Learning Outcomes & Objectives:

At the end of this Module, you will
*Know the more about UNFCCC treaty
*Understand the Paris Climate Change Agreement
*Be equipped with how Carbon Credits are used
*Become aware factors that influence the Global Energy Policy
*Get conversant with the NigerianECN's Energy Policy and Renewable Energy Policy.
*Know the details of the DPR's Petroleum Policy, Gas Policy and Petroleum Fiscal Policy.
*And the Energy international Management System
| | | |
| --- | --- | --- |
| | Course Code | UNN/OC/0052 |
| | Course Start Date | Started |
| | Course Duration | 3 Months |
| | Dedication | 2 hours per week |
| | Number of Modules | 10 |
| | Level | Basic |
| | School offering course | UNN Online School of Oil and Gas |
| | Language | English |
| | Video/Audio Media | None |
| ₦ | Course Fee | 200000.00 |
---
---
Certificate
of Proficiency
---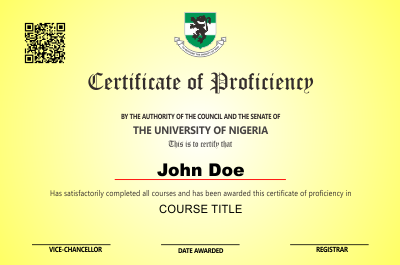 A Certificate of Proficiency is awarded to you at successful completion of courses designed to prepare you for a new career or enhance your skill set. This empowers you to be more productive and marketable in today's global market.
Associated
Programs
---
Pages:
1
This program teaches the fundamentals, of the different renewable energy technologies, wind, solar, Bioenergy, hydro, and geothermal energy. It offers an in-depth overview of renewable energy technologies and applications.
Course Prerequisites
/ Requirements
---
Graduates of Universities are eligible to register for Post Graduate Diploma programs, and complete/pass all the modules. NCE and HND holders with a minimum of 3 years working experience, especially in the petroleum industry will be considered. WAEC holders or equivalent, can enroll and do as many individual modules as they wish.