Renewable Energy Management and Efficiency
About this
Course
---
Renewable energy and energy efficiency options have been identified as important for the development of the sub-Saharan African energy sector. However, before now these options have not yet attracted a significant level of investment or policy commitment. As a result, there are not widely disseminated in the region. This module presents key reasons why energy sector decision-makers in Africa should promote renewables and energy efficiency options.
The African Development Development Bank stated that it had achieved 100% investment in renewable energy, in 2017, to clean energy and efficiency, creating 2,750 jobs, generating 838 MW of wind energy, and 87 MW of solar PV energy. AFDB posted an estimated annual1,190,469 of carbon dioxide emission savings.Given the significant renewable energy potential in this region, opportunities exist for exploiting renewable energy technologies that also have energy efficiency attributes such as bagasse-based cogeneration, solar water heaters and geothermal combined heat/power plants.
The rationale for promoting renewable energy and energy efficiency in national energy policies is not well argued. This might partially explain why limited attention is accorded to renewable energy and energy efficiency. Consequently, the largescale conventional energy sector (i.e. electricity and petroleum), which serves a smaller proportion of the population receives the bulk of energy investments in most countries in the region. In contrast, small-scale renewable energy options, which has potential for entrepreneurship and which serve the bulk of the population, receive limited budgetary support. The International Renewable Energy Agency's publication on "Synergies between Renewable Energy and Energy Efficiency, a Working Paper Based on REmap 2030", will form part of the student's course material.
Course Objectives
This module will enable the student:
To understand Renewable Energy Management Methods
Understand and apply Energy Efficiency techniques
Know how Policies and Regulations shape the Renewable Energy Sector.
Study the Kenyan Geothermal energy implementation.
Become knowledgeable with IRENA's Renewable Energy and Energy Efficiency synergy publications.
Be able to strongly argue, a sound rationale for promoting renewable energy,
And energy efficiency in Africa's national energy policies.
| | | |
| --- | --- | --- |
| | Course Code | UNN/OC/0046 |
| | Course Start Date | Started |
| | Course Duration | 3 Months |
| | Dedication | 5 hours per week |
| | Number of Modules | 5 |
| | Level | Basic |
| | School offering course | UNN Online School of Oil and Gas |
| | Language | English |
| | Video/Audio Media | None |
| ₦ | Course Fee | 200000.00 |
---
---
Diploma
Certificate
---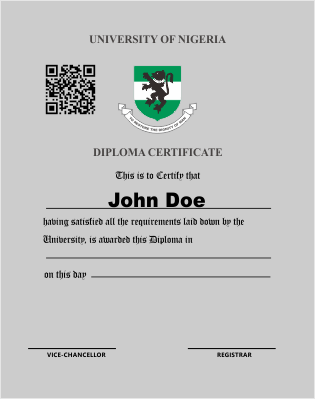 The highly prestigious University of Nigeria Diploma certificate is awarded to you on successful completion of a course or program. The certificate gives you an edge by improving your market value and employability in top level organizations.
Associated
Programs
---
Pages:
1
This program teaches the fundamentals, of the different renewable energy technologies, wind, solar, Bioenergy, hydro, and geothermal energy. It offers an in-depth overview of renewable energy technologies and applications.
Course Prerequisites
/ Requirements
---
Graduates of Universities are eligible to register for Post Graduate Diploma programs, and complete/pass all the modules. NCE and HND holders with a minimum of 3 years working experience, especially in the petroleum industry will be considered. WAEC holders or equivalent, can enroll and do as many individual modules as they wish.