Global Energy Resource Management
About this
Course
---
Global energy resources are the estimated maximum capacity for energy production given all available resources on earth. They can be divided by type into fossil fuel, nuclear fuel and renewable resources.
These are the proven energy reserves; real reserves may be up to a factor 4 larger. Significant uncertainty exists for these available numbers. Estimating the remaining fossil fuels on the planet depends on a detailed understanding of Earth's crust. While modern drilling technology makes it possible to drill wells in up to 3 km of water to verify the exact composition of the geology, one half of the ocean is deeper than 3 km, leaving about a third of the planet beyond the reach of detailed analysis.

In addition to uncertainty in real reserves, there is significant uncertainty in technological and economic factors that impact what percentage of reserves can be recovered gainfully. In general the easiest to reach deposits are the first extracted. Factors affecting the cost of exploiting the remaining reserves include the accessibility of fossil deposits, the level of sulfur and other pollutants in the oil and the coal, transportation costs, and societal instability in producing regions.
This course focuses on the study, reviewing and examining in detail, all the available energy resources, renewable and non-renewable worldwide. They include oil, natural gas, coal, marine energy, nuclear, solar, peat, geothermal, wind, hydro, bioenergy/biomass, hydrogen cells, energy from waste, energy efficiency, cost of generation technologies etc., and provide a baseline for the development of a credible energy management program. Inclusive of the instructional materials available in this module, the "World Energy Resources" publication is used by permission of the World Energy Council.
Learning Outcomes & Objectives:

At the end of this course, students will:
Know what the global energy resources and reserves are.
Have a global strategic insight into the various energy resources.
They will be able plan based on available fossil and renewable energy.
They will be equipped with the fundamentals of globally available energy resources.
Recognize the Geothermal energy potential of Africa.
They will become capable of leading energy transition, and manage the energy mix.
Understand the roles of gasification and co-firing in overall energy management strategy.
They will become conversant with the geo-availability of oil, gas, coal, nuclear, solar, peat, geothermal, wind, hydro, bioenergy/biomass, hydrogen cells etc., resources.
Become acquainted with the complete energy resources of the world, as published by the World Energy Council.
Be knowledgeable in energy generation costs, their efficiencies and sustainability.
And use global energy resources baseline for the development of a credible energy management program and policy.
| | | |
| --- | --- | --- |
| | Course Code | UNN/OC/0051 |
| | Course Start Date | Started |
| | Course Duration | 3 Months |
| | Dedication | 2 hours per week |
| | Number of Modules | 10 |
| | Level | Basic |
| | School offering course | UNN Online School of Oil and Gas |
| | Language | English |
| | Video/Audio Media | None |
| ₦ | Course Fee | 200000.00 |
---
---
Certificate
of Proficiency
---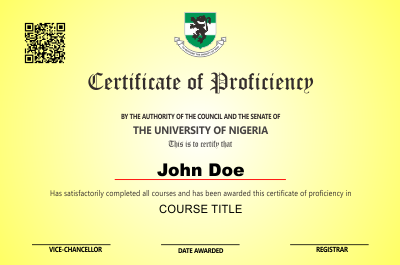 A Certificate of Proficiency is awarded to you at successful completion of courses designed to prepare you for a new career or enhance your skill set. This empowers you to be more productive and marketable in today's global market.
Associated
Programs
---
Pages:
1
This program teaches the fundamentals, of the different renewable energy technologies, wind, solar, Bioenergy, hydro, and geothermal energy. It offers an in-depth overview of renewable energy technologies and applications.
Course Prerequisites
/ Requirements
---
Graduates of Universities are eligible to register for Post Graduate Diploma programs, and complete/pass all the modules. NCE and HND holders with a minimum of 3 years working experience, especially in the petroleum industry will be considered. WAEC holders or equivalent, can enroll and do as many individual modules as they wish.