Offshore Logistics and Corrosion Management
About this
Course
---
As soon as crude oil and natural gas have been separated into liquid and gas and any other non-refinery or superfluous material, like water, is removed, the crude oil and natural gas for the offshore facility are transported to onshore refineries or to gas processing plants on land.
Most offshore oil and gas production is transported by pipelines to onshore facilities, which require that pipelines be laid from the offshore facility to an onshore center and from thence the crude oil and natural gas are sent to a refinery or gas processing facility.
The technique for laying pipelines under water in the current sense is not an old technology and had its beginnings in England during World War II.Pipeline designs vary depending on what they are transporting—crude oil, natural gas, or refined products—and their function.
Over a third of the worldwide growth in drilling and production is expected to emanate from offshore and technological advances in pipeline construction and safety have been accelerating with the most effective and safe goals.
In this course, you will learn how offshore logistics complements offshore drilling and production, through offshore piping of produced oil and gas, shipping vessel storage and transportation, material, equipment and manpower transportation, communication, applicable international and national regulations, and the management of corrosion due to seawater.
Course Objectives
After the completion of this course, you will:
Know how huge offshore logistics challenges are handled
Learn more about Offshore Pipelines
Understand Subsea Pipeline Systems
Have deeper insight about offshore Pigs & Pigging operations
Have deep knowledge of Crude Oil Vessel Tanker Types and their Transportation
Become knowledgeable about Local Laws and International Conventions against Marine Oil Spills
Know the Seawater Corrosion Parameters
Be able to manage Corrosion, offshore
And lots more.
| | | |
| --- | --- | --- |
| | Course Code | UNN/OC/0040 |
| | Course Start Date | Started |
| | Course Duration | 3 Months |
| | Dedication | 4 Hours per week |
| | Number of Modules | 4 |
| | Level | Level 3 |
| | School offering course | UNN Online School of Oil and Gas |
| | Language | English |
| | Video/Audio Media | None |
| ₦ | Course Fee | 300000.00 |
---
---
Diploma
Certificate
---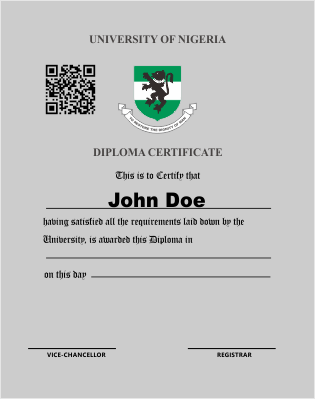 The highly prestigious University of Nigeria Diploma certificate is awarded to you on successful completion of a course or program. The certificate gives you an edge by improving your market value and employability in top level organizations.
Course Prerequisites
/ Requirements
---
Graduates of Universities are eligible to register for Post Graduate Diploma programs, and complete/pass all the modules. NCE and HND holders with a minimum of 3 years working experience, especially in the petroleum industry will be considered. WAEC holders or equivalent, can enroll and do as many individual modules as they wish.