Water Resources: Issues & Opportunities in Bioenergy Generation
About this
Course
---
This course presents an overview of the impacts of bioenergy production on water resources. Production of bioenergy feedstocks takes place on the landscape, within watersheds. Knowledge of the water cycle and how it functions in a watershed is important to understanding bioenergy production impacts on water resources.
Increasing bioenergy production may require increased row crop production through Ecological Intensification of cropping systems. Water is needed at various rates and times throughout the bioenergy production cycle, from crop growth to feedstock processing into biofuel. Water use and its impacts on the many aspects of the water cycle need to be part of the decision making process for biofuels crop selection and production.
This module will provide an introduction to these topics. Several topics will be further explored in later modules. You should have an introductory understanding of water and bioenergy issues after completing this course.
Learning Outcomes & Objectives:
Discuss water quality and quantity issues associated with bioenergy crop production.
Determine BMPs (Best Management Practices) for converting CRP (Conservation Reserve Program) andother marginal lands to bioenergy crop production, accounting for regional variation.
Identify water conservation strategies for the production of bioenergy crops
Understand ecological intensification in the context of landscape conversion and bioenergy crop production.
| | | |
| --- | --- | --- |
| | Course Code | UNN/OC/0058 |
| | Course Start Date | Started |
| | Course Duration | 3 Months |
| | Dedication | 2 hours per week |
| | Number of Modules | 10 |
| | Level | Basic |
| | School offering course | UNN Online School of Oil and Gas |
| | Language | English |
| | Video/Audio Media | None |
| ₦ | Course Fee | 200000.00 |
---
---
Certificate
of Proficiency
---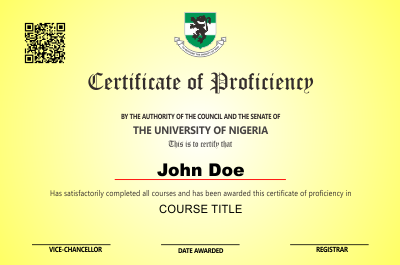 A Certificate of Proficiency is awarded to you at successful completion of courses designed to prepare you for a new career or enhance your skill set. This empowers you to be more productive and marketable in today's global market.
Associated
Programs
---
Pages:
1
In this program, you will learn all about Bioenergy which comprises of Biogas, Biodiesel and Biofuel. Bioenergy is energy derived from Biomass; an organic based energy source supplying the worlds energy needs.
Course Prerequisites
/ Requirements
---
Graduates of Universities are eligible to register for Post Graduate Diploma programs, and complete/pass all the modules. NCE and HND holders with a minimum of 3 years working experience, especially in the petroleum industry will be considered. WAEC holders or equivalent, can enroll and do as many individual modules as they wish.