Bioenergy Production Operations (Biogas, Biofuel and Biodiesel)
About this
Program
---
Bioenergy is energy derived from Biomass. In this program, it consists of Biogas, Biodiesel and Biofuel. Biomass is an energy resource derived from plant and algae-based material that includes crop wastes, forest residues, purpose-grown grasses, woody energy crops, algae, industrial wastes, sorted municipal solid waste, urban wood waste, and food waste.
Biomass is the only renewable energy source that can offer a viable supplement to petroleum-based liquid transportation fuels uch as gasoline, jet, and diesel fuel in the near to mid-term. It can also be used to produce valuable chemicals for manufacturing, as well as power to supply the grid.
Most vehicles on the road today run on gasoline and diesel fuels, which are produced from oil a nonrenewable resource, meaning supplies are finite. Renewable resources, in contrast, are constantly replenished and are unlikely to run out. Biomass is one type of renewable resource that can be converted into liquid fuels (biofuels) for transportation value chain. Biofuels include cellulosic ethanol, biodiesel, and renewable hydrocarbon (gasoline, diesel, and jet) fuels.
The two most common types of biofuels in use today are ethanol and biodiesel. Biofuels can be used in most vehicles that are on the roads, unlike some other renewable alternatives, such as electricity, which would require replacement of our current vehicle fleet. In the future, renewable liquid fuels that are functionally equivalent to petroleum fuels will be available, meaning older cars will not need to be replaced to be renewable.
It can also serve as a renewable alternative to fossil fuels in the manufacturing of plastics, lubricants, industrial chemicals, and many other products derived from petroleum or natural gas. Mimicking the existing "petroleum refinery" model, these "bioproducts" can be produced alongside biofuels at an integrated "biorefinery." This co-production strategy offers a more efficient, cost-effective, and integrated approach to the utilization of our nation's biomass resources. Revenue generated from bioproducts provides added value, improving the economics of biorefinery operations and creating more cost-competitive biofuels.
Biogas comes from the microbial anaerobic breakdown or digestion of wastes to produce gas that can be used for cooking. It can be upgraded to pipeline quality gas, and fed into natural gas grids or compressed for use in adapted vehicles.
Biopower technologies convert renewable biomass fuels into heat and electricity using processes similar to those used with fossil fuels. There are three ways to release the energy stored in biomass to produce biopower: burning, bacterial transformation, and conversion to gas/liquid fuel. A key attribute of biomass is its availability upon demand- the energy is stored within the biomass until it is needed, whereas other forms of renewable energy are dependent on variable environmental conditions, such as wind speed or sunlight intensity.
Nigeria is currently building over 20 biofuel plants across the country, through an NNPC driven initiative. The versatility of Biofuels in Nigeria, lies in the fact that, it is currently used as an antiknock, octane enhancer blend with petroleum fuels. The product has no need to wait for 100% biofuel driven vehicles before usage. This course fills the local knowledge gap required for a new generation of professionals for the Bioenergy industry.
This program is aimed at producing Bioenergy professionals who:
Will develop and lead the emerging Bioenergy sector.
Understand the dynamics of the Biofuel and Biodiesel technology.
Can develop the Biogas technology, and apply same for rural and industrial development.
Will drive the integration of Bioenergy into the overall energy mix.
Can supply the adequate technical professional skills required for Bioenergy companies.
Will implement the petroleum- biofuel blending programs.
Will lead the 100% Biofuel renewable energy transition.
In this program, you will study the following modules:
Fundamentals of Bioenergy
Bioenergy Crop Production: Marketing And Economics
Water Resources: Issues & Opportunities In Bioenergy Generation
Bioenergy Processes & The Nigerian Scenario
Biogas: Introduction to Anaerobic Digestion

Factors Affecting Microbial Anaerobic Digestion

Types Of Anaerobic Digesters

Anaerobic Digester Start-Up, Operation And Control

The Economics Of Biogas Digesters

Cooperative Development of Anaerobic Digester.

Bioenergy Technologies, Policies & Standards.
| | | |
| --- | --- | --- |
| | Program Code | UNN/OP/0013 |
| | Number of Courses | 10 |
| | Program Duration | 5 Months |
| | Dedication | 10 Hours per week |
| | School offering program | UNN Online School of Oil and Gas |
| | Language | English |
| | Video/Audio Media | Audio & Video |
| ₦ | Program Price | 1300000.00 |
---
---
Diploma
Certificate
---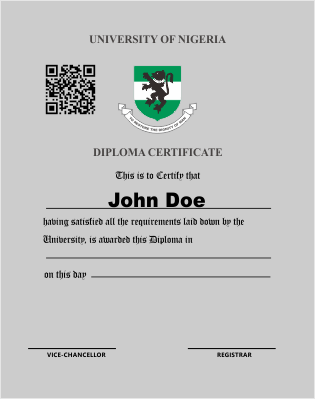 The highly prestigious University of Nigeria Diploma certificate is awarded to you on successful completion of a course or program. The certificate gives you an edge by improving your market value and employability in top level organizations.
Program Prerequisites
/ Requirements
---
This program is designed for those who aspire to be involved in this sector as well as professionals. Graduates of Universities are eligible to register for this program, and complete/pass all the courses. NCE and HND holders with a minimum of 3 years working experience, especially in the petroleum industry will be considered. WAEC holders or equivalent, can enroll and do individual modules.