Cooperative Development Of Anaerobic Digesters
About this
Course
---
This module explores the application of anaerobic digesters to multiple waste sources through cen­tral community digesters and other cooperative approaches. Earlier modules in this series have described the biological processes, management and operational features, and the types and various capabilities of anaerobic digesters.
Most of the information in modules 1-5 also applies to cooperatively-developed anaero­bic digesters. This module will explore in greater detail the business models, design features and conditions favoring the development of community digesters. Community digesters take waste from smaller producers who cannot support an individual digester and allow the integration of anaerobic digestion into larger com­munity waste, energy and environmental management objectives.
The units within this module provide case studies and lessons for anaerobic digestion applications at the community or cooperative scale.
Learning Outcomes & Objectives:
Identify the design, economic and policy barriers to conventional anaerobic digesters for community applications.
Describe the community digester approach to aggregating organic waste streams from multiple sources.
Identify different ownership structures and business models available to develop community digesters.
Identify economic and policy approaches that support community digesters.
| | | |
| --- | --- | --- |
| | Course Code | UNN/OC/0064 |
| | Course Start Date | Started |
| | Course Duration | 3 Months |
| | Dedication | 2 hours per week |
| | Number of Modules | 10 |
| | Level | Basic |
| | School offering course | UNN Online School of Oil and Gas |
| | Language | English |
| | Video/Audio Media | None |
| ₦ | Course Fee | 50000.00 |
---
---
Certificate
of Proficiency
---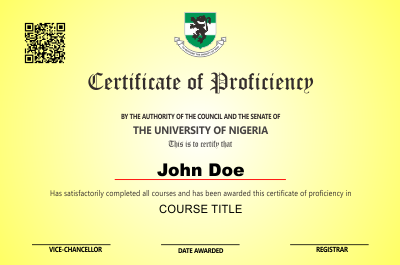 A Certificate of Proficiency is awarded to you at successful completion of courses designed to prepare you for a new career or enhance your skill set. This empowers you to be more productive and marketable in today's global market.
Associated
Programs
---
Pages:
1
In this program, you will learn all about Bioenergy which comprises of Biogas, Biodiesel and Biofuel. Bioenergy is energy derived from Biomass; an organic based energy source supplying the worlds energy needs.
Course Prerequisites
/ Requirements
---
Graduates of Universities are eligible to register for Post Graduate Diploma programs, and complete/pass all the modules. NCE and HND holders with a minimum of 3 years working experience, especially in the petroleum industry will be considered. WAEC holders or equivalent, can enroll and do as many individual modules as they wish.