Bioenergy Technologies, Policies and Standards
About this
Course
---
The European Union is taken in this course as a case study due to their advancement in biofuels, therefore a careful study needs to be made, and learning points noted, as Nigeria moves forward in this energy type, if not for the purpose of energy switch, certainly for blending with gasoline, in order to improve the octane rating, and as an antiknock agent.
In the European Union (EU) several targets have been defined in order to promote
biofuels. These policies are formulated in official papers of the European Commission and
will be subsequently shortly summarized.
About 20 biofuel plants are under construction, or nearing completion, as a result of NNPC's MOU for the local production of biofuels, which will be used as antiknock for petroleum gasoline. In this module, all forms of biofuel, including advanced biofuels will be taught, and the emerging international standards explained.
Learning Outcomes & Objectives:
To explain the international Policies that promote the growth of Bioenergy- biofuel, biodiesel and biogas.
To list and highlight the energy crops, in use, and potential use.
To teach how biogas can be 'upgraded' to biomethane, for automotive, and other uses.
To teach in greater detail, the Bioenergy Technologies that are in use, and emerging.
Draw student's attention to the importance of Standardization of Bioenergy, especially biofuels and biodiesel,
And the relevance of the ASTM [American Society for Testing and Materials], and other international bioenergy standards.
| | | |
| --- | --- | --- |
| | Course Code | UNN/OC/0065 |
| | Course Start Date | Started |
| | Course Duration | 3 Months |
| | Dedication | 2 hours per week |
| | Number of Modules | 10 |
| | Level | Basic |
| | School offering course | UNN Online School of Oil and Gas |
| | Language | English |
| | Video/Audio Media | None |
| ₦ | Course Fee | 70000.00 |
---
---
Certificate
of Proficiency
---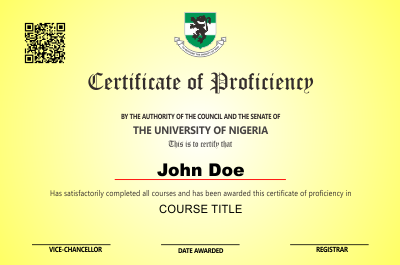 A Certificate of Proficiency is awarded to you at successful completion of courses designed to prepare you for a new career or enhance your skill set. This empowers you to be more productive and marketable in today's global market.
Associated
Programs
---
Pages:
1
In this program, you will learn all about Bioenergy which comprises of Biogas, Biodiesel and Biofuel. Bioenergy is energy derived from Biomass; an organic based energy source supplying the worlds energy needs.
Course Prerequisites
/ Requirements
---
Graduates of Universities are eligible to register for Post Graduate Diploma programs, and complete/pass all the modules. NCE and HND holders with a minimum of 3 years working experience, especially in the petroleum industry will be considered. WAEC holders or equivalent, can enroll and do as many individual modules as they wish.