The Economics of Biogas Digesters
About this
Course
---
This course discusses the capital requirements for installing a dairy farm anaerobic digester, how the capital cost is likely to vary with herd size and the ancillary components included, what is happening to con-struction costs over time, tips on obtaining financing, and some of the grants and subsidies available to help defray the cost of a digester. The main operating and maintenance cost items are also discussed in this course.
This course provides information concerning the economic aspects of establishing an on-farm based anaerobic digester. Course participants are introduced to computer based decision support tools to assist in evaluating the economics of a digester and the issues of risk and opportunities in output markets.
Learning Outcomes & Objectives:
Identify sources of financing for anaerobic digesters.
Understand economic issues around the startup and operation of a digester.
Know how to use computer support tools to determine the economic feasibility of an on-farm digester.
Discuss potential markets for products and by-products of anaerobic digesters.
| | | |
| --- | --- | --- |
| | Course Code | UNN/OC/0063 |
| | Course Start Date | Started |
| | Course Duration | 3 Months |
| | Dedication | 2 hours per week |
| | Number of Modules | 10 |
| | Level | Basic |
| | School offering course | UNN Online School of Oil and Gas |
| | Language | English |
| | Video/Audio Media | None |
| ₦ | Course Fee | 200000.00 |
---
---
Certificate
of Proficiency
---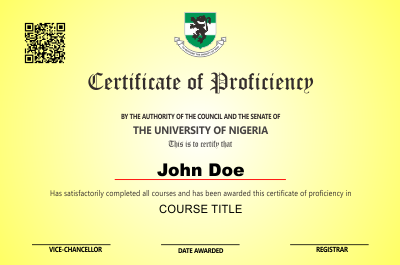 A Certificate of Proficiency is awarded to you at successful completion of courses designed to prepare you for a new career or enhance your skill set. This empowers you to be more productive and marketable in today's global market.
Associated
Programs
---
Pages:
1
In this program, you will learn all about Bioenergy which comprises of Biogas, Biodiesel and Biofuel. Bioenergy is energy derived from Biomass; an organic based energy source supplying the worlds energy needs.
Course Prerequisites
/ Requirements
---
Graduates of Universities are eligible to register for Post Graduate Diploma programs, and complete/pass all the modules. NCE and HND holders with a minimum of 3 years working experience, especially in the petroleum industry will be considered. WAEC holders or equivalent, can enroll and do as many individual modules as they wish.