Bioenergy Processes and The Nigerian Scenario
About this
Course
---
One major method which has been studied to reduce CO2 emissions from vehicles is the blending of gasoline with ethanol. It is estimated that about 8.908 x 10 -3 metric tonnes of CO2 are emitted from the combustion of a gallon of gasoline that does not contain ethanol, and 1.015 x 10 -2 metric tonnes of CO2 are emitted from the combustion of a gallon of diesel that does not contain ethanol. Increase in the consumption of ethanol fuel has mitigated increases in CO2 emissions from the transportation sector.
Ethanol production from sugar cane is commercially available in Brazil, while biofuel production from algae is at research and development phase. Existing research on biomass resources and the potential for biofuels in Nigeria is focused on power generation and biofuels production from first generation biomass. Typically this substitutes fuel production for food crops. There is currently limited information on the state of biomass conversion technologies for the utilization of non-food crops for transportation fuels production in Nigeria.
This course will explain the process involved in the production of biofuel, biogas and biodiesel.
Learning Outcomes & Objectives:
To elucidate the various bioenergy processes for biofuel, biodiesel and biogas.
To provide the required knowledge on the various indigenous biomass resources and energy crops in Nigeria.
To highlight the in-country industrial efforts made so far, between the state oil company [NNPC], and bioenergy development companies.
To explain the bioenergy development efforts made so far, in Nigeria,
And identify the problems been encountered in the process of bio-development.
| | | |
| --- | --- | --- |
| | Course Code | UNN/OC/0059 |
| | Course Start Date | Started |
| | Course Duration | 10 |
| | Dedication | 2 hours per week |
| | Number of Modules | 10 |
| | Level | Basic |
| | School offering course | UNN Online School of Oil and Gas |
| | Language | English |
| | Video/Audio Media | None |
| ₦ | Course Fee | 50000.00 |
---
---
Certificate
of Proficiency
---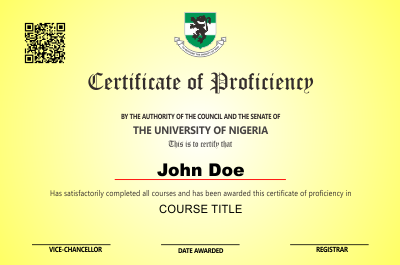 A Certificate of Proficiency is awarded to you at successful completion of courses designed to prepare you for a new career or enhance your skill set. This empowers you to be more productive and marketable in today's global market.
Associated
Programs
---
Pages:
1
In this program, you will learn all about Bioenergy which comprises of Biogas, Biodiesel and Biofuel. Bioenergy is energy derived from Biomass; an organic based energy source supplying the worlds energy needs.
Course Prerequisites
/ Requirements
---
Graduates of Universities are eligible to register for Post Graduate Diploma programs, and complete/pass all the modules. NCE and HND holders with a minimum of 3 years working experience, especially in the petroleum industry will be considered. WAEC holders or equivalent, can enroll and do as many individual modules as they wish.