Biogas: Factors Affecting Microbial Anaerobic Digestion
About this
Course
---
Biogas is produced by fermenting bacteria and metha­nogens under anaerobic conditions and at optimal tem­perature, pH and environmental conditions. This process works best when fermenting bacteria and methanogens are balanced and working together. When conditions inside the digester change and fermenting bacteria and metha­nogens are no longer in balance, the digester is at risk of going "sour" and eventually ceases to produce biogas.
Fermenting bacteria and methanogens work in tandem to produce biogas. Methanogens are microorganisms that live in an anaerobic environment and convert organic acids produced by the fermenting bacteria into methane.
Complex organics include proteins and polysaccharides. These are reduced to higher organic acids by hydrolytic and acidogenic bacteria. Higher organic acids are converted into acetic acid by acetogenic, homoacetogenic and syntrophic bacteria. Methanogens convert acetic acid into methane. It should be noted that the primary conversion route is from complex organics to acetic acid to methane, although hydrogen is also a significant component of methane generation.
This course provides information on factors that need to be managed in order to maintain biogas production. These factors – microbial population, feedstocks, loading rate, mixing, and environmental issues – determine the effectiveness of digester operation.
Learning Outcomes & Objectives:
Describe the role each factor plays in biogas production.

Identify possible feedstocks for a digester.
Suggest possible loading rates.
Identify tools that estimate biogas yield.
Understand why fermenting bacteria and methanogens work together
What "sour" digesters are, and how they can be pre­vented.
| | | |
| --- | --- | --- |
| | Course Code | UNN/OC/0061 |
| | Course Start Date | Started |
| | Course Duration | 3 Months |
| | Dedication | 2 hours per week |
| | Number of Modules | 10 |
| | Level | Basic |
| | School offering course | UNN Online School of Oil and Gas |
| | Language | English |
| | Video/Audio Media | None |
| ₦ | Course Fee | 200000.00 |
---
---
Certificate
of Proficiency
---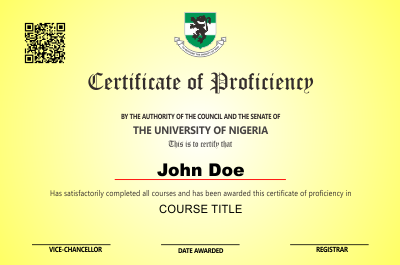 A Certificate of Proficiency is awarded to you at successful completion of courses designed to prepare you for a new career or enhance your skill set. This empowers you to be more productive and marketable in today's global market.
Associated
Programs
---
Pages:
1
In this program, you will learn all about Bioenergy which comprises of Biogas, Biodiesel and Biofuel. Bioenergy is energy derived from Biomass; an organic based energy source supplying the worlds energy needs.
Course Prerequisites
/ Requirements
---
Graduates of Universities are eligible to register for Post Graduate Diploma programs, and complete/pass all the modules. NCE and HND holders with a minimum of 3 years working experience, especially in the petroleum industry will be considered. WAEC holders or equivalent, can enroll and do as many individual modules as they wish.