About this
Course
---
Every person who is a worker should be well instructed as to the hazards and risks associated with the tasks he/she is expected to perform and the precautions to be taken to avoid harm. The procedures to be followed when executing any task must be religiously observed. Appropriate personal protective equipment needed for task being executed on a general basis must be worn.
Safety is as important as any other aspect of company's business. No job is so important that it cannot be done in a safe manner. Infact a job should not be done or continued if the question on safety cannot be answered. Definite sanctions are for those who flout safety rules. Safety should be first and always in all out activities.
HSE rules are meant to ensure that all companies comply with regulations guiding the companies operational standards. As mentioned earlier to pursue the goal of no harm to the people – whether staff, contractors, or indigenes, and to protect the environment.
To achieve this objective, there are set rules and procedures that must be adhered executing and task. These rules when complied with will prevent accidents, which result in injury to people, loss of product, which may lead to pollution of the environment and exposure of persons to health hazards.
This level is designed to help improve the workplace culture by enabling learners to understand the fundamentalprinciples of risk assessment. The course is suitable for anyone in a work environment as it raises learners' awareness of the concept of risk assessment.
Learning Outcomes & Objectives:
To imbibe in students the general principles of occupational health and hygiene.
To equip candidates with the HSE and Emergency Management skills required to lead a modern industrial establishment.
To acquaint participant with the basic principles of fire with a view to allying their fear and increase their understanding of fire.
To explain the roles of occupational hygienist.
To enable trainees understand the relationship between a health hazard, a disease and accident.
To help them know the types of occupational hazards in working environment (basic classes of environmental stress).
To emphasize the three phases of occupational health program - assessment, evaluation and control of hazards and enhance their knowledge of industrial hygiene and control.
Understand the nature and properties of fire.
Know different types and extinguishing media.
Know types and use of portable fire extinguishers with their limitations.
Know causes of fire.
Know how to prevent fire occurrence
Know how to fight fires, at incipient stage.
Emergency management and natural disaster response.
Security operations in industry and access control.
Community liason, development and crisis management.
Journey management.
Level 2 knowledge and skills cutting across the following HSE topics:
HSE Polices, Job Hazard Analysis, Unsafe Act Audit Report Form, Permit to work, Journey Management, Defensive Driving, Incident Report Form, Accident and Incident Investigation and Reporting, Environmental Management, Waste Management, Safe handling of Chemicals, Environmental Impact Assessment, Evaluation Report and Statement (EIA, EEA, EIS), Occupational Health, Security Management, Emergency Response, Community Disturbance, Theft, Oil Pipeline Sabotage, Protective Measures, Community Development, First Aid, Fire, Safety etc.
| | | |
| --- | --- | --- |
| | Course Code | UNN/OC/0068 |
| | Course Start Date | Started |
| | Course Duration | 3 Months |
| | Dedication | 2 hours per week |
| | Number of Modules | 10 |
| | Level | Basic |
| | School offering course | UNN Online School of Oil and Gas |
| | Language | English |
| | Video/Audio Media | None |
| ₦ | Course Fee | 200000.00 |
---
---
Certificate
of Proficiency
---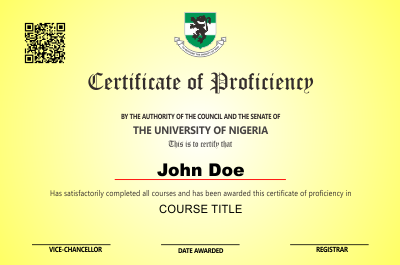 A Certificate of Proficiency is awarded to you at successful completion of courses designed to prepare you for a new career or enhance your skill set. This empowers you to be more productive and marketable in today's global market.
Associated
Programs
---
Pages:
1
This program provides general HSE knowledge, from the industry recognized HSE Levels 1-3. It goes beyond this basic industry requirement, through HSE management systems application, and offers students the Advanced HSE Management course.
Course Prerequisites
/ Requirements
---
Graduates of Universities are eligible to register for Post Graduate Diploma programs, and complete/pass all the modules. NCE and HND holders with a minimum of 3 years working experience, especially in the petroleum industry will be considered. WAEC holders or equivalent, can enroll and do as many individual modules as they wish.