Occupational Health, Safety & Environmental Management
About this
Program
---
The main aim of HSE Management is to reduce or eliminate harm to staff, damage to company equipment and protect the environment, as well as reduce company's risk of litigation. This is achieved by making sure the organization complies with relevant regulations and by helping reduce the number of accidents and environmental disasters occurring in the workplace.
HSE Management System defines the principles by which companies conduct operations worldwide with regards to health, safety, and the environment.
This diploma provides general HSE knowledge, from the industry recognized HSE Levels 1-3, it goes beyond this basic industry requirement, through HSE management systems application, and offers students both the Advanced HSE Management, as well as the Senior HSE Manager's Module of Occupational Health, Safety & Environment Module, which treats Occupational Health on a more elaborate level, and captures the latest Occupational Health & Safety International Standards Organization's ISO 45001 Standard. Students are taught the differences between the well-known ISO OHSAS 18001, and the emerging 1SO 45001 standards that is set to replace the former, while providing an advanced HSE Management skill-set and maximum take-home delivery to enable HSE personnel function at the top management level. Also the ISO 14001 Environmental Management System will be taught.
In this program, you will study the following topics, in addition to General and FPSO HSE.
Introduction HSE Polices
Meaning of HSE – Management Systems
What is HSE-MS
Scope of HSE-MS
HSE-MS Components
The Risk Assessment Matrix (RAM)
Types of Risks Assessment
Hazard Analysis definition
Task Hazard Register
Task Hazard Control Sheet
The Supervisor and Safety
Job Hazard Analysis
Unsafe Act Audit Report Form
Permit to work xiv Journey Management
Defensive Driving
Incident Report Form
Accident and Incident Investigation and Reporting
Environmental Management
Environmental Protection ii. Some common Environmental Phenomena
Environmental Management
Harmful Environmental condition and exposures
Waste Management
Hazards of poor Waste Management
Some of the agencies involved in Spill Management.
Safe handling of Chemicals
Environmental Impact Assessment, Evaluation Report and Statement (EIA, EEA, EIS)
Occupational Health
Aims and objectives of Occupational Health
The Relationship between Health and Work
The relationship between a Health Hazard, Accident and Disease
Types of Occupational Hazards in working Environment
Security Management
Introduction/definition
Assets and types of Assets
Some security methods for protecting Company Assets
Site Security Plan/ Emergency Response Procedures
Security Emergency Response Community Disturbance
Security Emergency Response, Stealing/ Theft
Physical Security or Protective Measures
Basic Community Affairs
Issue in the Niger Delta
Community Affairs issues
Company active area to host community
Roles of communities to oil companies
Contractor related community issues
Major issues and concerns to Companies
Aims of Community development
Community development Policy
Transformation from community
Change from Community Assistance to Community Development
Benefit of Community Development
Principles and Practice of First Aid
Introduction
Aims and Objectives of First Aid
Qualification of a First Aider
General rules guiding First Aiders
Principle and practices of Emergency Management
Artificial Respiration
The Technique of Artificial Respiration
Cardio-Pulmonary Resuscitation
Fire Safety
Types and Classification of Fires
Classification of Fire and Extinction Method
Fire preventive measures
Method of operating and use of portable fire Extinguishers
Learning Outcomes:
At the end this program, candidates would acquire knowledge and skills in:
Safety awareness, principles and practice.
Environmental principles, pollution, and practice.
Occupational health knowledge and implementation.
Roles of occupational hygienist.
Relational between a health hazard, a disease and accident.
Types of occupational hazards in working environment (basic classes of environmental stress).
The three phases of occupational health programme- assessment, evaluation and control of hazards.
Industrial hygiene and control.
Fire prevention, control and protection. to acquaint participant with the basic principles of fire with a view to allying their fear and increase their understanding of fire.
Understand the nature and properties of fire.
Know different types and extinguishing media.
Know types and use of portable fire extinguishers with their limitations.
Know causes of fire.
Know how to prevent fire occurrence.
Know how to fight fires, at incipient stage.
Emergency management and natural disaster response.
Security operations in industry and access control.
Community liason, development and crisis management.
Journey management.
HSE auditing.
HSE management system implementation.
Know the applicable ISO Standards.
Understand the difference and similarities between ISO OHSAS 18001 and ISO 45001.
Become familiar with the ISO 14001 Environmental Management Systems.
| | | |
| --- | --- | --- |
| | Program Code | UNN/OP/0014 |
| | Number of Courses | 5 |
| | Program Duration | 5 Months |
| | Dedication | 10 Hours per week |
| | School offering program | UNN Online School of Oil and Gas |
| | Language | English |
| | Video/Audio Media | Audio & Video |
| ₦ | Program Price | 1100000.00 |
---
---
Diploma
Certificate
---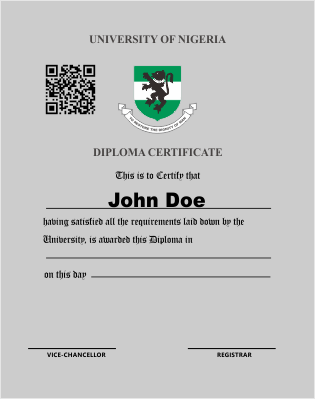 The highly prestigious University of Nigeria Diploma certificate is awarded to you on successful completion of a course or program. The certificate gives you an edge by improving your market value and employability in top level organizations.
Program Prerequisites
/ Requirements
---
This program is designed for those who aspire to be involved in this sector as well as professionals. Graduates of Universities are eligible to register for this program, and complete/pass all the courses. NCE and HND holders with a minimum of 3 years working experience, especially in the petroleum industry will be considered. WAEC holders or equivalent, can enroll and do individual modules.