About this
Course
---
Level 4 HSE gives the student deeper insight into the HSE Management System, already explained in level 3, it is defined as a quality management system for managing risks within the company to assure the protection of people, assets, and reputation, and the protection of the environment the company operates within. Incorporated in the HSE-MS are the means to meet the requirements of the company's HSE statement, policy and commitment, including those of continuous improvement and compliance with the law.
The purpose of any management system is to ensure that the activities of the company are planned, carried out, controlled and directed so that the business objectives of the company are met. It should have an improvement loop in its construction following the plan- do- check –feedback steps of any quality system.
The role of the leadership which management provides, in the installation, implementation and control of a HSE-MS alongside conventional HSE, is emphasized.
Learning Outcomes & Objectives:
To teach students the installation, implementation and control of a HSE-MS alongside conventional HSE.
To emphasize HSE auditing as monitoring and control tool.
To explain the HSE management system implementation process.
Assist trainees to learn the applicable ISO Standards.
Help them understand the difference and similarities between ISO OHSAS 18001 and ISO 45001.
To enable them become familiar with the ISO 14001 Environmental Management Systems.
Enable students to learn HSE Business Improvement through leadership and action planning.
Advanced level knowledge and skills cutting across the following HSE topics:
HSE Polices, Job Hazard Analysis, Unsafe Act Audit Report Form, Permit to work, Journey Management, Defensive Driving, Incident Report Form, Accident and Incident Investigation and Reporting, Environmental Management, Waste Management, Safe handling of Chemicals, Environmental Impact Assessment, Evaluation Report and Statement (EIA, EEA, EIS), Occupational Health, Security Management, Emergency Response, Community Disturbance, Theft, Oil Pipeline Sabotage, Protective Measures, Community Development, First Aid, Fire, Safety etc.
| | | |
| --- | --- | --- |
| | Course Code | UNN/OC/0070 |
| | Course Start Date | Started |
| | Course Duration | 3 Months |
| | Dedication | 2 hours per week |
| | Number of Modules | 10 |
| | Level | Basic |
| | School offering course | UNN Online School of Oil and Gas |
| | Language | English |
| | Video/Audio Media | None |
| ₦ | Course Fee | 200000.00 |
---
---
Certificate
of Proficiency
---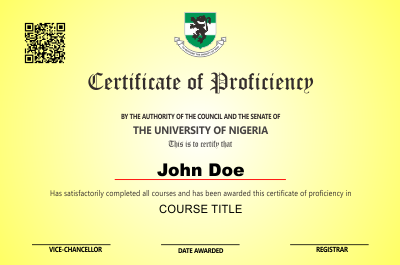 A Certificate of Proficiency is awarded to you at successful completion of courses designed to prepare you for a new career or enhance your skill set. This empowers you to be more productive and marketable in today's global market.
Associated
Programs
---
Pages:
1
This program provides general HSE knowledge, from the industry recognized HSE Levels 1-3. It goes beyond this basic industry requirement, through HSE management systems application, and offers students the Advanced HSE Management course.
Course Prerequisites
/ Requirements
---
Graduates of Universities are eligible to register for Post Graduate Diploma programs, and complete/pass all the modules. NCE and HND holders with a minimum of 3 years working experience, especially in the petroleum industry will be considered. WAEC holders or equivalent, can enroll and do as many individual modules as they wish.