Occupational Health, Safety and Environmental Management - Senior Managers Course
About this
Course
---
The joint International Labour Organization (ILO) and the World Health Organization (WHO) constituted in 1950 and revised in 1995, defined Occupational Health as the ―promotion and maintenance of the highest degree of physical, mental and social well-being of workers in all occupation‖.
ILO further summarized Occupational Health definition as the ―prevention of departure from health among workers caused by their working conditions; the promotion of workers in their employment from risks resulting from factors adverse to health, the placing and maintenance of the worker in occupational environment adapted to their physical and psychological well-being; and the adaptation of work to man and man to his work.
Occupational health is a means of protecting and maintaining the physical, psychological and social health of workers and their families. It can also be viewed as the study of factors or conditions influencing the health and well being of workers not only in the place of work but also at home with the aim of promoting health, safety and welfare of the workers and their family.
Learning Outcomes & Objectives:
To explain Occupational Health and its benefits.
To help trainees that the physical and mental demands of the job matches the anatomical, physiological and psychological capabilities of the individual worker meant for the job.
To identify work hazards that occur in the work place/environment.
To identify potential, physical, chemical, biological, ergonomic and psychosocial stressors in a variety of work environments.
To explain Occupational health regulations.
To equip trainees with ways of protecting the working individuals from health hazards.
To explain the role of Occupational Health team members and the role of the nurse and the role of community health practitioners in protecting and promoting the health and safety of workers.
To elucidate the roles of health education and rehabilitation services for workers who have emotional, physical injuries and psychological problem.
| | | |
| --- | --- | --- |
| | Course Code | UNN/OC/0071 |
| | Course Start Date | Started |
| | Course Duration | 3 Months |
| | Dedication | 2 hours per week |
| | Number of Modules | 10 |
| | Level | Basic |
| | School offering course | UNN Online School of Oil and Gas |
| | Language | English |
| | Video/Audio Media | None |
| ₦ | Course Fee | 50000.00 |
---
---
Certificate
of Proficiency
---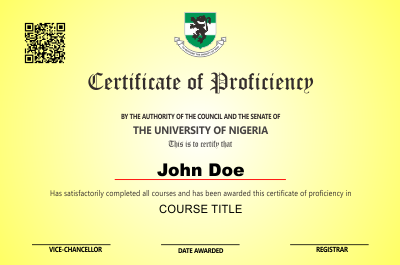 A Certificate of Proficiency is awarded to you at successful completion of courses designed to prepare you for a new career or enhance your skill set. This empowers you to be more productive and marketable in today's global market.
Associated
Programs
---
Pages:
1
This program provides general HSE knowledge, from the industry recognized HSE Levels 1-3. It goes beyond this basic industry requirement, through HSE management systems application, and offers students the Advanced HSE Management course.
Course Prerequisites
/ Requirements
---
Graduates of Universities are eligible to register for Post Graduate Diploma programs, and complete/pass all the modules. NCE and HND holders with a minimum of 3 years working experience, especially in the petroleum industry will be considered. WAEC holders or equivalent, can enroll and do as many individual modules as they wish.