General Oil and Gas Process and Well Completions
About this
Course
---
Oil production can be described as the activity that takes place on the completion of well drilling, when a large quantity of recoverable oil has been found, to the point where it is sent to the oil processing facilities to be refined or treated for shipment to the customer.
Production activities consist of well completion, when a well is made ready to produce oil in large quantities, or well workover when an operating well is reworked to replace old tubing and other components to improve the well's oil flow. First a hole is drilled in the ground to a depth below where oil or gas is trapped. In the drilling process the hole is lined or cased with large diameter pipe that is screwed together in sections. This pipe is called production casing.
Cement is pumped into the space between the outside of the casing and the inside of the drilled hole.The cement secures the casing to the rock and seals the face of the rock. Liquids or gases cannot flow from the rock into the hole or into nearby rocks. So far we only have a steel lined hole in the ground full of drilling mud.
This module teaches how oil and gas are explored, drilled, produced and processed. It describes how well flow, a mixture of oil, gas, water, sand etc., is separated and processed into 'clean' marketable crude oil and gas products, using various separator vessels. Separators are vessels in which mixtures of insoluble fluids, are separated from each other. They are used most often in oilfields, than any other process equipment in process facilities. In addition participants will be taught the oil and gas production process. Associated facilities and equipment like pumps, valves, desalters, towers and columns, pipeline and piping, as well as fractionating column and industrial water processing facilities are equally treated.
Learning Outcomes & Objectives:
On the completion of this Course, Trainees will be able to:
Describe the entire oil & gas value chain, from drilling to production operations
Understand the Oil & Gas Production Process
Know the Technologies involved.
Explain the principle of separation.
Have a general idea about the principles of fluid separation
Understand the theory and design of separators.
Explain the function of separator internals.
Explain the difference between 2 and 3 phase separators.
Explain the difference between horizontal and vertical separators.
Explain the liquid level control systems.
Explain the pressure control system, pumps, and piping
Explain the factors that affect separation.
Explain the basic separator start‑up procedure.
Explain the basic separator shut‑down procedure.
Develop the ability to respond correctly to the operating problems.
Understand the functions and working of safeguarding systems used in separators.
Understand Electrostatic Desalters, Coalescers and other Vessels used in well flow separation.
Identify and explain the functions of the downhole components that make up a single zone or dual zone oil or gas well completion.
Explain why old wells need 'workovers' to improve their production.
| | | |
| --- | --- | --- |
| | Course Code | UNN/OC/0047 |
| | Course Start Date | Started |
| | Course Duration | 3 Months |
| | Dedication | 5 hours per week |
| | Number of Modules | 5 |
| | Level | Basic |
| | School offering course | UNN Online School of Oil and Gas |
| | Language | English |
| | Video/Audio Media | None |
| ₦ | Course Fee | 150000.00 |
---
---
Certificate
of Proficiency
---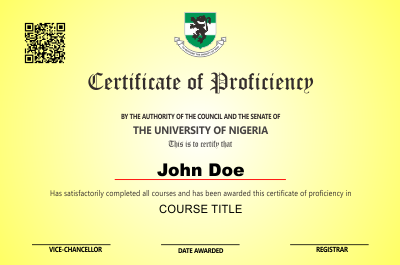 A Certificate of Proficiency is awarded to you at successful completion of courses designed to prepare you for a new career or enhance your skill set. This empowers you to be more productive and marketable in today's global market.
Associated
Programs
---
Pages:
1
This program teaches the unique offshore environment, complex technology and equipment as well as safety and environmental challenges that must be undertaken and overcome in deep water exploration, production, processing and transportation.
This program teaches how oil and gas are explored, drilled, produced and processed. It describes how well flow, a mixture of oil, gas, water, sand, is separated and processed into 'clean' marketable crude oil and gas products.
Course Prerequisites
/ Requirements
---
Graduates of Universities are eligible to register for Post Graduate Diploma programs, and complete/pass all the modules. NCE and HND holders with a minimum of 3 years working experience, especially in the petroleum industry will be considered. WAEC holders or equivalent, can enroll and do as many individual modules as they wish.