Pumps Used in the Petroleum Industry
About this
Course
---
Pumps are used in the upstream, midstream, and downstream sectors of the oil and gas industry, and they 'empower' gas, oil, and other fluids with sufficient energy to move from one location to another. Pumps such as Centrifugal, oil, positive displacement, oil transfer, diaphragm, and petrochemical pumps are essential in delivering oil from the wells or production facilities to, ocean vessels, storage tanks, refineries, and back to storage facilities. They are equally used for methanol injection, glycol pumping, chemical processing, gas sweetening, and water disposal. They provide efficient solutions for the transportation of chemicals. Each type of pump is integrated into an oil and gas facility for a specific purpose and are critical in the transportation or purification of various fluids.
This course describes the different types of pumps commonly found in process plants. The module has five units. These units describe the basic terminology of pumps and pumping, the types of reciprocating, rotary and centrifugal pumps, start-up of centrifugal pumps, pump problems, and pump control systems.
Learning Outcomes & Objectives:
When the trainee has finished the course, the student will be able to:
*Explain the basic terminology of pumps.
*Identify different kinds of pumps and explain their functions.
*Identify the differences between the main types of reciprocating pumps and explain the end uses of these pumps in process plants.
*Explain the function of pulsation dampeners.
*Identify the differences between the main types of rotary pumps and explain the end uses of rotary pumps in process plants.
*Explain how centrifugal pumps increase pressure.
*Explain how pump shafts are sealed and how axial and radial thrust are balanced in single stage centrifugal pumps.
*Explain the reasons for, and the advantages of, multi‑stage centrifugal pumps.
*Explain how axial thrust is balanced in a multi‑stage centrifugal pump.
*Explain how cavitation and vapour lock occur in a centrifugal pump and explain how these problems are overcome.
*Explain why centrifugal pumps are connected in parallel or in series.
*Explain the pre‑start checks and start‑up procedure for centrifugal pumps with electric motor and steam turbine prime movers.
*Explain the procedure for centrifugal pump changeover.
*Use pump readings to identify pump problems.
*Identify and explain pump control systems.
| | | |
| --- | --- | --- |
| | Course Code | UNN/OC/0050 |
| | Course Start Date | Started |
| | Course Duration | 3 Months |
| | Dedication | 2 hours per week |
| | Number of Modules | 10 |
| | Level | Basic |
| | School offering course | UNN Online School of Oil and Gas |
| | Language | English |
| | Video/Audio Media | None |
| ₦ | Course Fee | 60000.00 |
---
---
Certificate
of Proficiency
---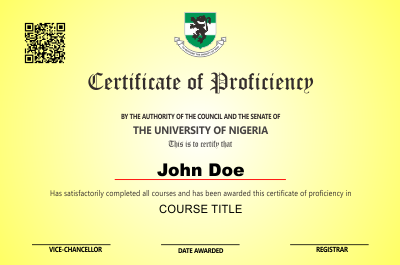 A Certificate of Proficiency is awarded to you at successful completion of courses designed to prepare you for a new career or enhance your skill set. This empowers you to be more productive and marketable in today's global market.
Associated
Programs
---
Pages:
1
This program teaches the unique offshore environment, complex technology and equipment as well as safety and environmental challenges that must be undertaken and overcome in deep water exploration, production, processing and transportation.
This program teaches how oil and gas are explored, drilled, produced and processed. It describes how well flow, a mixture of oil, gas, water, sand, is separated and processed into 'clean' marketable crude oil and gas products.
Course Prerequisites
/ Requirements
---
Graduates of Universities are eligible to register for Post Graduate Diploma programs, and complete/pass all the modules. NCE and HND holders with a minimum of 3 years working experience, especially in the petroleum industry will be considered. WAEC holders or equivalent, can enroll and do as many individual modules as they wish.