About this
Course
---
The piping system is important to all plant operations. Because it looks very simple it is sometimes overlooked. However, if the piping system does not operate properly a plant will shutdown. It is very important that the trainee understands what a piping system does. An operator must ensure that the equipment is installed, maintained and operated correctly.
Every plant has large and small piping systems. These systems have many different uses in a plant. All fluids and gases in a plant are moved from place to place in piping systems. The piping system includes pipe, pipe fittings to control the direction of flow and valves to control the amount of flow.
The piping systems in a plant carry hot and cold water, crude oil, refined products, chemicals, gases and other fluids at many different temperatures, pressures, and flow rates. All parts of a piping system must be properly inspected and maintained. The loss of a single piping system in one part of a plant may cause the shutdown of processes in the plant. It is very important that the trainee operator understands the operation and maintenance of the piping systems.
Course Objectives
Upon completion of the course the trainees will be able to understand, describe and discuss the following:
Introductory Piping
Piping Sizes
Pipe Coding
Metal Piping
Corrosion
Electrochemical Corrosion
Corrosion Protection
Internal Corrosion
Pipeline Safety
Tubing
Uses of Tubing
Connecting Tubing
Piping Insulation
Pipe Supports
Piperacks
Pipe Hangers
| | | |
| --- | --- | --- |
| | Course Code | UNN/OC/0043 |
| | Course Start Date | Started |
| | Course Duration | 3 Months |
| | Dedication | 4 Hours per week |
| | Number of Modules | 4 |
| | Level | Level 3 |
| | School offering course | UNN Online School of Oil and Gas |
| | Language | English |
| | Video/Audio Media | None |
| ₦ | Course Fee | 300000.00 |
---
---
Diploma
Certificate
---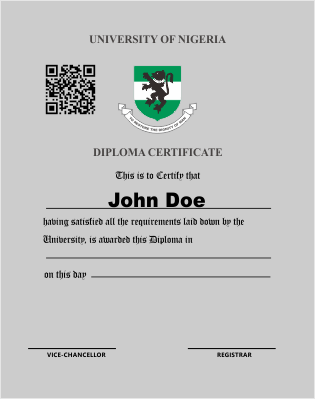 The highly prestigious University of Nigeria Diploma certificate is awarded to you on successful completion of a course or program. The certificate gives you an edge by improving your market value and employability in top level organizations.
Associated
Programs
---
Pages:
1
This program teaches the unique offshore environment, complex technology and equipment as well as safety and environmental challenges that must be undertaken and overcome in deep water exploration, production, processing and transportation.
This program teaches how oil and gas are explored, drilled, produced and processed. It describes how well flow, a mixture of oil, gas, water, sand, is separated and processed into 'clean' marketable crude oil and gas products.
Course Prerequisites
/ Requirements
---
Graduates of Universities are eligible to register for Post Graduate Diploma programs, and complete/pass all the modules. NCE and HND holders with a minimum of 3 years working experience, especially in the petroleum industry will be considered. WAEC holders or equivalent, can enroll and do as many individual modules as they wish.